Filmmakers are looking for the best Android apps to do the work more fluently and effectively. With the advancements
Filmmakers are looking for the best Android apps to do the work more fluently and effectively. With the advancements in technology, people have started to think the impossible is not that far away from being possible. The World has experienced a new era of minimizing the things and has increased their overall creativity. A major gift from the technology has changed the ordinary phones to smartphones and people want everything at their hand. A major contribution has been by the android developers and they are improvising every second. Media has played a very important role in creating awareness among people. In this article, we are going to list the best Android apps for filmmakers.
The Top List Of Best Android Apps For Filmmakers
This Android Flim maker app costs around 7$. It is really worth the few dollars not because it can control your Canon  camera but because it offers ease of use.With no root required, Laptop/Computer, only a compatible Android device and a suitable USB cable. With its release on the android market, it has gained a reputation of one of the best android filmmaker apps  to today's date.when it comes to the DSLR controlling capabilities. All you have to do is make sure your smartphone supports it because it contains some epic features and require some processing speed and there you go. This app has been very famous for controlling your Canon EOS DSLR from the USB cable. Nothing required, no root, no laptop just directly connect and the app does everything for you.

Canon has been well known for its high-quality professional photography instruments. This application contains the list of current cannon lenses with the clear and straight detail that would definitely help you chose the perfect lens for you. This is a free Flim maker app on the android store and contains a complete guide of EF and EF-S Mount lenses. Each lens has its own detailed page and links are also provided in them.

Shot Lister is a super useful shot list & scheduling app. Staying organized is one of the most important things, and with this handy application, you can create, organize and share shooting schedules and shot lists with ease. The app comes with a live mode, multi-cam support, desktop import and many other cool features. It is fully customizable. Shot Lister is a free app that offers in-app purchases, and there is also Shot Lister Pro, the annual subscription that costs $13.99. With Shot Lister Pro you will get the access to some additional features, such as crew sync, storyboards, script importing and more. It is definitely one of the best Android apps for filmmakers.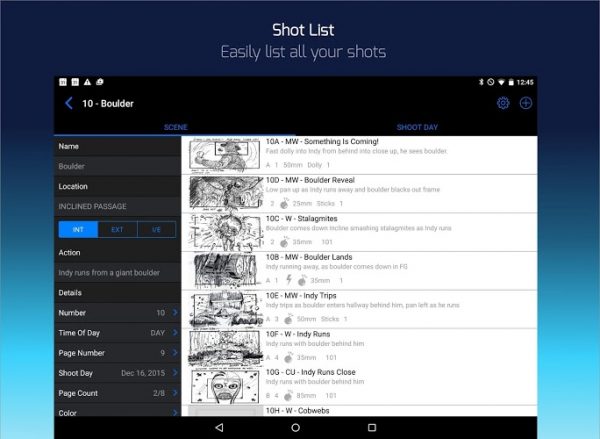 With this awesome app, you can write formatted scripts on the go on your smartphone or tablet and collaborate with your partners. The app has many useful features, including comic formats, audio play, AV, screenplay, free online backups, and you can also add comments and create notes. It is a free and easy to use app.
This is one of the best video editor apps for Android. It is a full HD movie maker and it is packed with tons of great features and video effects. You can easily create your own mini motion picture, split or trim the video, and even if your Android device does not have the slow motion option, PowerDirector allows you to adjust the video speed and to create slow motion videos. It is a free app with in-app purchases, so if you haven't tried it yet, it's the perfect time to do so. With more than 60,000 reviews in the Google Play Store, it has 4.3 stars!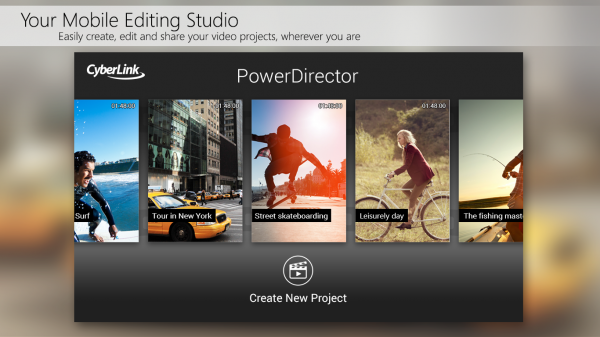 FilmMic Pro simply must be on the list of the best Android apps for filmmakers as this application is considered to be the golden standard when it comes to mobile video. The app was used to film "Tangerine". It will turn the camera of your Android into the HD video camera. It has standard, manual and hybrid shooting modes, slow and fast Motion FX options, variable speed zoom, and many other features. The price of the app is $9.99.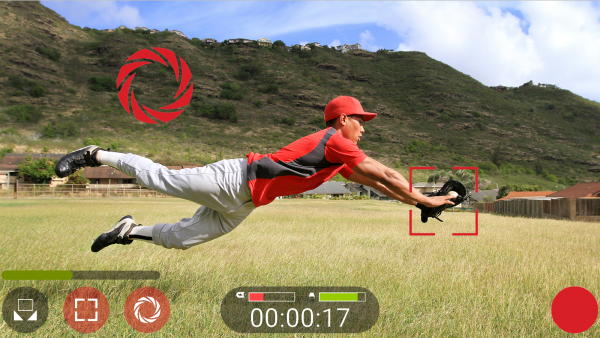 ---