74% of Android Devices Can Be Remotely Unlocked by Google According to a document that was released by the Ney
74% of Android Devices Can Be Remotely Unlocked by Google
According to a document that was released by the Ney York District Attorney's Office, most of the Android devices can be remotely unlocked by Google. If there is an official request from the court, Google can unlock it, in one condition: the device is using the Android 5.0 Lollipop or older. Remotely unlock the device cannot be done on Android device with Android 5.0 or newer because it has adopted the full encryption disk feature by default.
"Forensic examiners are able to bypass passcodes on some of those devices using a variety of forensic techniques. For some other types of Android devices, Google can reset the passcodes when served with a search warrant and an order instructing them to assist law enforcement to extract data from the device. This process can be done by Google remotely and allows forensic examiners to view the contents of a device."
TNW said, if we look at the Android Developer Dashboard we can see that 74.1% of devices are currently using a version of Android that can be remotely unlocked at any time.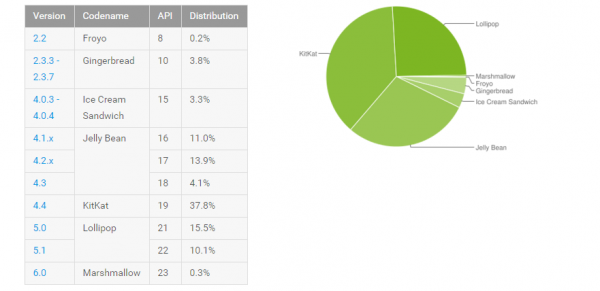 For iOS devices, the full disk encryption feature has been adopted on iOS 8 or newer if the user activates the passcode. The users of iOS 8 or newer has reached 91% if we see the official report of iOS 9 adoption from Apple. The number above tells us about the security level in the new mobile OS from Google and Apple. To update the software or change the device to the latest mobile OS can become a perfect option if you are concerned about the privacy.
Via: The NextWeb
The other news: Interesting Experiment Apps Of Apple Pencil And iPad Pro: Weight scale, Audiokit Synthesizer, 3D Image Controller
---