There are an awful features added in the Accessibility features on the LG G3. Maybe it is because we are being
There are an awful features added in the Accessibility features on the LG G3. Maybe it is because we are being more advanced "technically" or it is just a marketing stunt. These features surely do come handy to some of those folks out there would always like to tinker with everything. Just like humans, these smartphones too are not built the same. They are designed in such a way to excel at something very particular. But before you go any further, make sure that you read the default accessibility features that all of us get in Android, so you know which features LG has added.
So whether you are just trying to feel that you are having JARVIS on your phone, or just wanted to have that Processor Usage Indicator at the top of the screen, or maybe something more, LG G3 has got your back. So read down till the end to know all the new features that LG has added in their newest flagship device LG G3.
Read also – How To fix the error while playing video on LG G3
Accessibility Features On The LG G3
Vision
Message/Call Voice Notifications – Yes you guessed it right. This setting will read your incoming messages and calls out loud. And not only that, it will also read all the contents of your incoming messages. Now that feels something like JARVIS, right?
Screen Shades – This is for people who want to save every drop of their battery. This setting dims the LCD backlight of your screen to do just that. So, no more wasting of battery on bright screens when you aren't looking at it.
Invert Colors – This kind of seems common in all the devices that we see. The Invert Colors option will swap all the colors of your screen to give you a better reading experience. At first look it might seem ugly, but once you get used to it, you will find the normal screen eye poking.
Color Adjustment – This setting will let you adjust the hue and the color of your screen. This option was created specifically for people who have vision complications. You can also adjust the screen by just dragging your finger across the screen horizontally.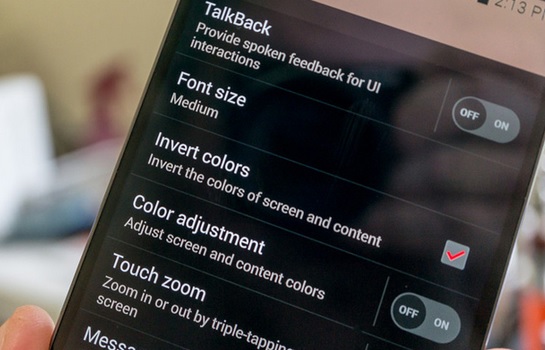 Hearing
Turn of all Sounds – It does exactly what it says. It will turn off all the sounds, including notifications.
Notification LED – It will flash the notification LED light for all incoming calls and notifications.
Flash Alerts – That notification LED is not enough? Well then you can have your camera flash notify you about new notifications. The camera flash will blink instead of the notification LED when you receive an incoming call or any notification.
Sound Balance – You can adjust the sound from right to left.
Physical
Universal Touch – When you toggle on this option, you will get a floating icon on the screen. This is similar to what we see in the iPhones. When tapped, it will bring up different options, such as the screen capture, volume, home shortcut, etc.
System
One-Touch Input – This option disables the multi-touch feature on the LG keyboard. It is specifically designed for people with big fingers. This will enable you to type slowly, but steadily, and avoid those pesky unwanted characters getting in your way.
Recognition
Touch Control Areas – Maybe you want an area of your screen that just does not register any touches at all. This option does just that. You can define those areas of your screen and it will stop registering any touches there. But here's something that you'll have to remember – you won't be able to touch-zoom, use Google TalkBack and also Universal Touch.
So these are some Accessibility features on the LG G3. Use your phone the best way possible.
---