The owners of Google smartphones are already enjoying Android Oreo 8.0 which has been loaded with exclusive
The owners of Google smartphones are already enjoying Android Oreo 8.0 which has been loaded with exclusive smart features that have made using an Android smartphone quite fun.Pixel, Pixel XL, Nexus 5X, Nexus 6P, or Pixel C are already using Android Oreo 8. Other smartphones will have to wait for some more time as the companies have been adding their own touch to Oreo 8. Here are some Android 8.0 Oreo tips and tricks.
Read also- How To Use Picture In Picture in Android Oreo
Android 8.0 Oreo tips and tricks
Enable Google Play Protect and Remotely Wipe Phone
Hackers are always on a lookout to hack smartphones and this is done through the apps in the Play Store. However, this time Google Play Protect comes with an added layer of security so your phone is safe. With Android Oreo, your smartphone gets a set of anti-virus and security tools. If you wish to enable the Play Protect you can do it by going to Settings > Google > Security > Google Play Protect > Scan Device for Security Threats (toggle the option on). A list of apps which have been scanned recently will be displayed. There will be a green tick saying 'Looks Good' if your device is ok. The feature can also be accessed from Settings > Security & Location > Google Play Protect.
Besides this security system, Google Play Protect also lets you see the last location of your phone. Using this unique layer of protection you can make your phone ring if you cannot find it or if you think your phone is stolen you can access your phone remotely erase your phone's internal memory and even lock your phone with pattern, password or PIN. The feature will work only if your phone's Location has been turned on and the mobile data should be turned on. This is one of the most useful Android Oreo 8.0 tips on the list.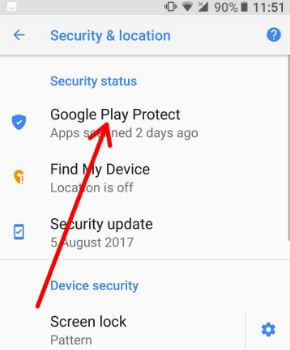 Easy Text Selection
Text selection with Android Oreo is now more intelligent. All you need to do is a double tap on the text you wish to select and the device selects it for you. There is more to it – if the text you have selected is an address Google then displays relevant actions to the text. For this, it suggests locating the address in the Google Map.
Picture-in-Picture Mode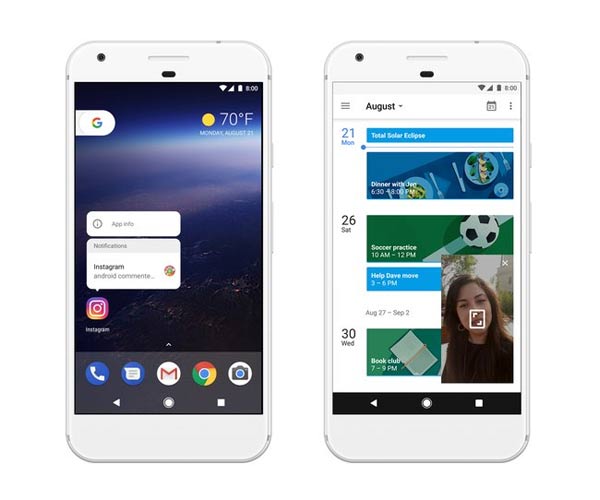 Another exquisite Android Oreo 8.0 tip which is quite useful is the Picture-in-Picture Mode. With this feature, you can watch a video or make a video call to someone while you also work on other tasks in the background. The Picture-in-Picture mode can be enabled using the below steps.
Go to Settings on your Android phone and tap on Apps and Notifications.
Once done you will need to click on Advanced so you get more options.
In this screen, select Special App Access
Here among all the options you need to pick Pick-in-Picture in the list
You will get a list of all the apps which support this feature. You just need to tap on the app and toggle to enable the feature besides 'Allow Picture-in-Picture'.
The feature can now be used. Say for instance you are watching a video on YouTube Red the video can be dragged around the screen with your finger. While the video plays you can message someone on WhatsApp too.
Notification Badges
Another useful tip in Android Oreo is the Notification Badge which can be seen on Notification Launcher. Although the notifications can be seen on the notification panel, if you are one who gets a lot of notifications and finds it uninteresting to scroll through to locate the exact notification that you are looking for then these Notification Badges come in to be quite useful. Whenever there is a notification received there will be a notification dot on them. You just need to long press that icon will display the notification badge for that particular badge so the user can see the notification for that app easily. Below the Notification Badges, you will also be able to see a list of different app shortcuts through which you can perform different tasks. Along with this, if there is a widget that the selected app has would also be displayed with the notification badge. You can add directly add the widget to a home screen with this button.
Snooze the Notification
There are times when you don't want to check your notification right away because you are busy with work at the office or home yet you want the notification to remain so you remember to check it later. This feature here lets you postpone your checking time for later. If you slowly press and slide the notification towards the right you will get a timer icon. If you tap on it the notification is removed from but it stays unread and after a specific time it comes back on your screen. The level of importance continues to be the same. So, for those who have kept a sound for the notification, when the notification comes back it comes back with the sound too.
Enable Wi-Fi Automatically
Another clever Android Oreo 8.0 tip is the ability to turn on the Wi-Fi automatically when you are at the office or home with good network available. Even if you are preserving your battery the feature will switch to high-speed networks if there is one around. You will have to enable this feature on your smartphone. Follow the steps below:
Go to Settings on your device and scroll down to Network & Internet.
In this screen, you get the option for Wi-Fi, tap on it to display the settings under this option
You will get a list of Wi-Fi networks. Move down to the end and tap on Wi-Fi preferences.
In this screen of options, you need to enable Turn on Wi-Fi Automatically by toggling it on.
Your smartphone will now connect to the saved networks automatically once this feature is on.
---