With the inception of Android Smartphone, almost all of us never feel the need to carry out a camera to capture
With the inception of Android Smartphone, almost all of us never feel the need to carry out a camera to capture the memorable moments. The high megapixel camera of android does the job perfectly. And you can make the photos more pleasant and attractive, by using some of the best photo editing apps. Yes, there are plenty of photo editing apps available for the android platform, which can make the images far better. However, you might be confused when choosing the perfect one, and this is why we will discuss here, about the best photo editing apps and their features. This guide will help you to pick the perfect photo apps for your android device.
If you face common problems with your Galaxy S5 or are looking for a guide to install android 5.0 Lollipop on your Galaxy S5, click on the links. The steps are described there.
Must read- 7 best free android apps for personal trainers 2015
Autodesk Pixlr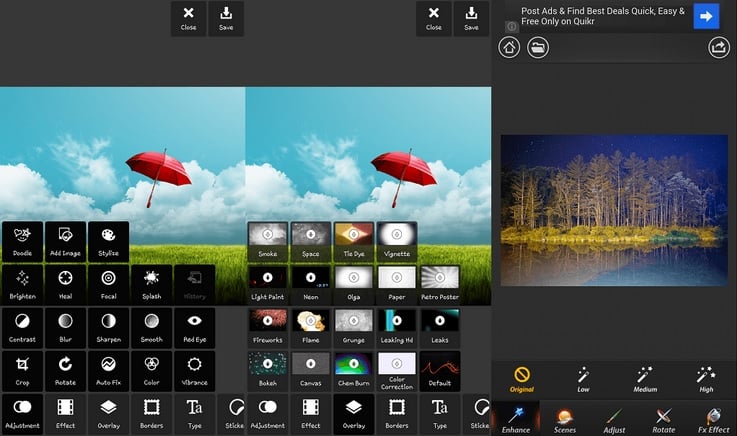 Autodesk is a popular name in the graphic-design industry and this Autodesk Pixlr app is released by them that can make the android photos more creative and artistic. This app is suggested as one of the top photo editing apps by all those users whoever have used it. Apart from the basic things such as crop, rotate and fine tune, it comes with more than 2 millions of free effects, borders, overlays, etc. using which you can further personalize the images. This is completely free, so you can install it without spending a cent. Removing of red eyes, whiten the teeth, etc. are some of the exciting features that can be used. Overall, this is a solid and one of the best photo editing app to go for.
Adobe Lightroom Mobile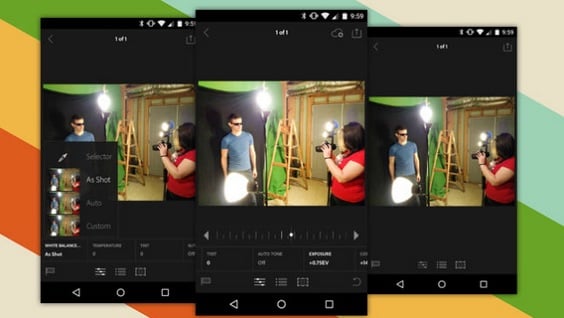 This is one of the best photo editing apps from Adobe. Adobe made this app so simple that everyone, whether beginner or advanced-level users, can make the best use of it. Packed with so many useful tools and range of presets, this app can convert a raw image into an attractive one. If you are the one who has an adobe creative cloud subscription, the app is free for you after the trial version of 30 days. However, for the non-creative cloud subscription, you need to pay some money after the free trial of 30 days. It requires just a click on the preset tools to experience the best of your image. It can be synced with the desktop also.
BeFunky Photo editor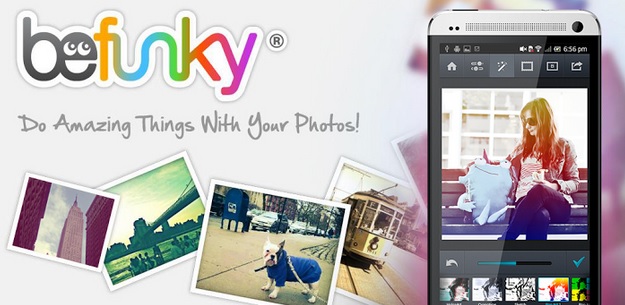 If you want to have the simple, but the funny photo editing apps, BeFunky is better to go for. You can do everything you want with your photo. This app also comes with so many photo-editing tools and effects such as filter, border, exposure, sharpen, etc. With a high rate and unlimited users; this app became very popular and it is recommended by many users. It has free and paid both the versions. So first have the free version, and if you find it interesting, go for the paid version.
Pho.to Lab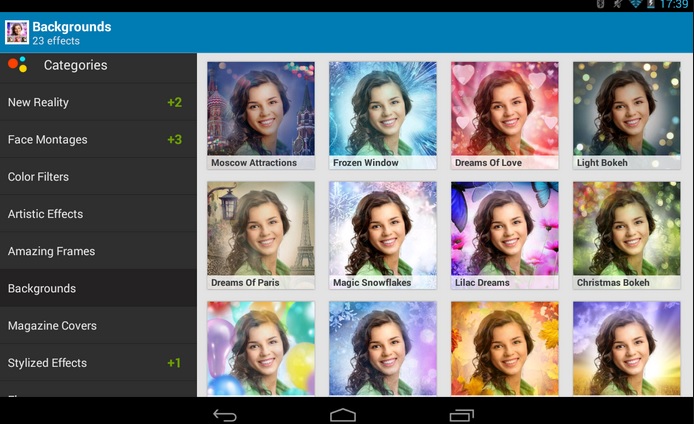 Those who are looking for the best editing apps packed with unlimited frames; Pho.to Lab is the best for them as it has more than 600 frames that you can use in the photos. Also, you will be able to enjoy so many interesting features, background, filters, etc. in this app. This is one of the really good editing apps that are really quick and quite easy to use. You just need to pick the filter, background, and frame, next select the photo and the process is done. Human to animal montage is another attraction of this app where you can turn the human face into animal face using this tool. Like other photo apps, this has also a free and paid version. The free version includes the watermarks in the image while the paid version isn't.
Fotor Photo Editor
If you are planning to install the best photo editing app on your android device, Fotor Photo Editor is considered as a good option for that. This app comes with so many features, effects, tools and other usable special effects that you will be confused what to use and what not. Stickers, text, frames, etc. are also available, and you can add them in the images. There are six photo-editing modes in this app and grid, buttons, burst, time, stabilizer and squares are the features included in them. So if you want to enhance the photo quality by using all the possible effects, install this app and your job will be done. Both versions, free and paid are available.
See also- 10 best weight loss apps for iPhone for 2015
Photo Editor Pro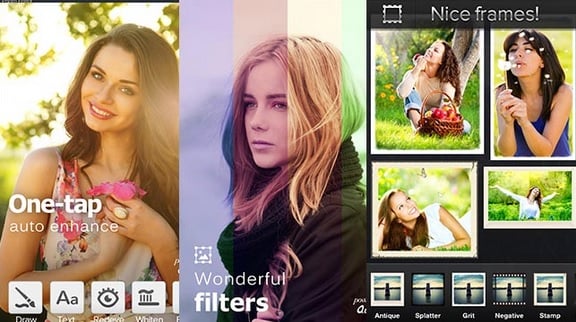 Photo Editor Pro falls in the solid and good editing apps category using which you can get the best of your images. It is simple, but comes with so many amazing features like photo filters, color balance, stickers, fun frames, one-tap auto enhance, draw/add text, crop, rotate, different types of adjustment such as brightness, color, contrast, saturation, etc. If you keep on posting photos in Instagram and in other social media, this app is perfect for you as it keeps the images simple but amazing. This app is completely free so you do not have to worry about the money, just install it and start editing the photos.
Photo Mate R2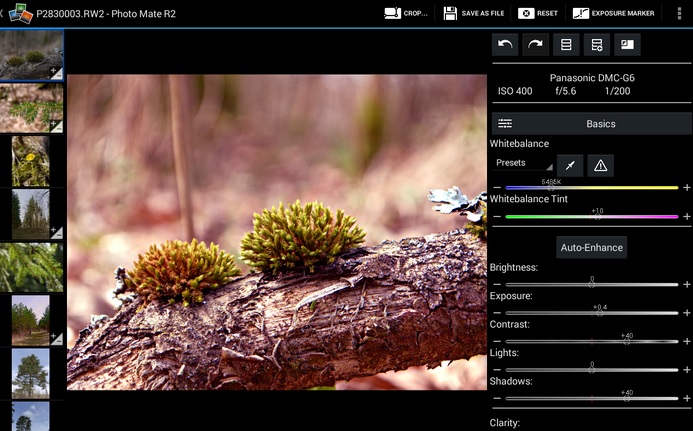 Photo Mate R2 is another interesting photo editing app for android. This app is appropriate for all those who work with the RAW images. Yes, this can convert the RAW images into attractive ones, using all the necessary effects and tools. This app can support every image starting from Nikon NEF, Pentax PEF, Sony ARW, Canon CR2 and others. Moreover, it can import photos from the USB-connected camera. With so many features, tools, effects and other important things, it is rated as one of the top photo apps. However, this is not free, and you need to pay an amount of $9.49 to get this app. Though it is a bit more expensive than other photo apps, it is really worth having, if you work especially with the RAW images.
PicsArt Photo studio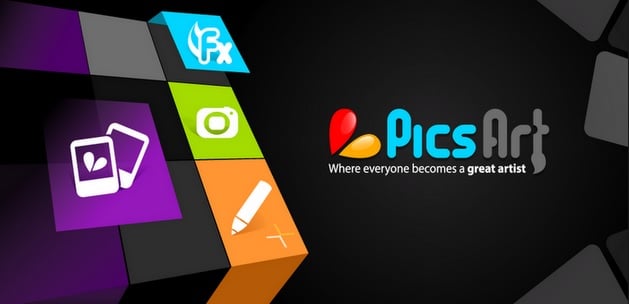 PicsArt is full with so many interesting effects, tools, filters, features and most importantly collages. So if you are a big fan of collages and need to use more collage effects in your images, this could be a better choice to look for. Around 250 million people have got this app to make their photos more professional. Great numbers of filters, effects and tools made this app so powerful and solid that, it is considered as a really good editing app. The best thing is that you do not have to spend anything as it is completely free. So, download it and make your images more professional than ever.
Photo Effects Pro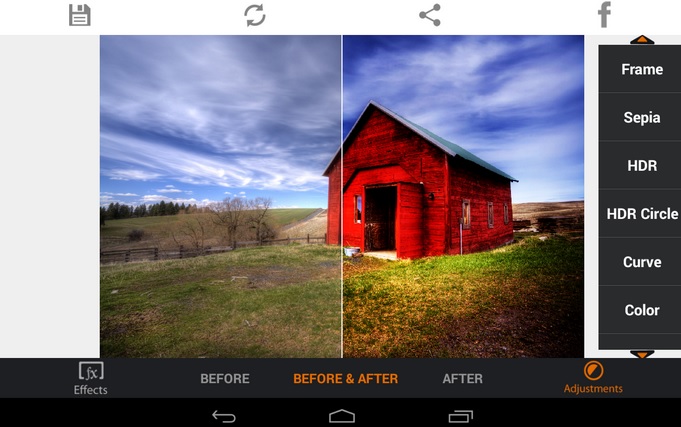 Want to download some solid photo editing apps in your Android Smartphone? Consider this as a great option because you will find everything in this app that is needed to do most of the work. Apart from the basic set of features such as filters, tools, collage and frame, it offers something more such as you can add meme pictures in your images to make it look funny, or you can draw something in the image using S Pen. With over 40 interesting effects and filters, you can convert your images into an awesome photo in no time. Again, this is completely free, so you can have it right now only.
PicSay- Photo Editor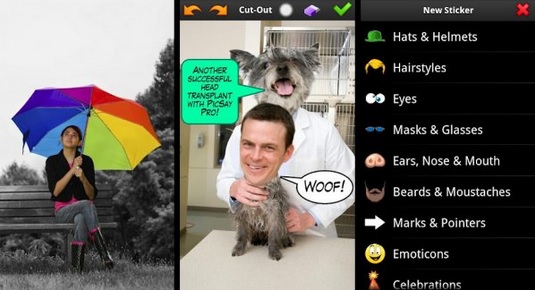 PicSay is another popular photo-editing app that has been used by many people. Over 10 million people have downloaded this app, which says clearly about the popularity of this app. All the needed features, effects, and filters are available, but in order to get something extra; the paid version is worth having a look. Red eyes removal, teeth whitening, etc. are available in the paid version, and you can easily check out this as this is not highly expensive, but very reasonable and affordable. This app has also won the fun award, so definitely this is one of the top photo-editing apps with so many powerful and amazing effects.
Rage Comics Photo Editor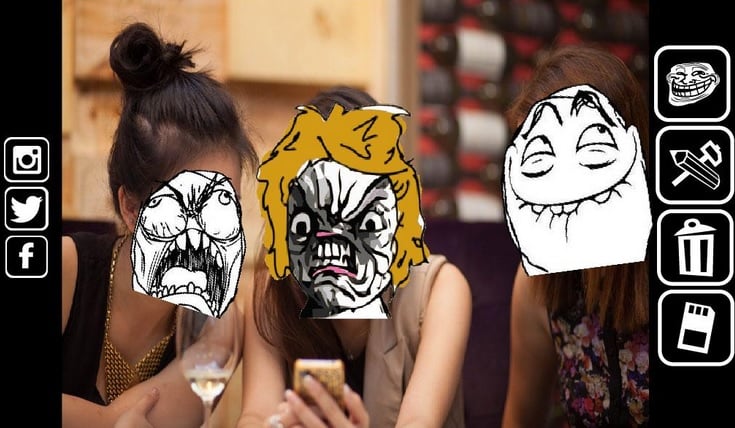 If you are looking for the funniest photo-editing app, nothing could be better than this. This app includes more than 300 meme faces with so many stickers and text feature. However, you will not get any other extra features apart from the above. This is only to have fun. Again, this is completely free, so you can download this app without hitting your pocket. Memes are very popular and if you are the one who wants to enjoy the life to the fullest, this app is a must-have for you. Download this app and laugh as loud as you can.
Most of the best photo editing apps for android is listed here. Every type of app such as professional, funny, creative and solid apps, is explained, so you can download the one that you think is the best for you. Most of them are available either for free or at very reasonable price. If you do not want to spend your money, look for the free ones, but in order to get something more, it is recommended to look at other apps as well because all of them are worth having.
---