There is an old saying, "Early to rise and early to fall, make healthy, wealthy and prosperous". Another quote
There is an old saying, "Early to rise and early to fall, make healthy, wealthy and prosperous". Another quote from myself is, "A healthy life begins with a healthy sleeping pattern". But all of us know that sleeping is not an easy thing nowadays, which pulls us in the net of having insomnia. But the great part is that insomnia is usually treatable and preventable. But for the people who have chronic insomnia, should stop reading this post and visit a physician to get the best advice. The great thing about this highly advanced world is that we can get some help from our best friend – Android.
Maybe you feel easy to sleep when your phone is not around you, or maybe you just need to stop thinking and close your eyes for 10-15 minutes to start dreaming. But if you've already tried these sleep apps, then you should definitely talk to your doctor for some advice. For folks who are like me, here are the best sleep apps for Android.
The Best Sleep Apps For Android
Sleep Hypnosis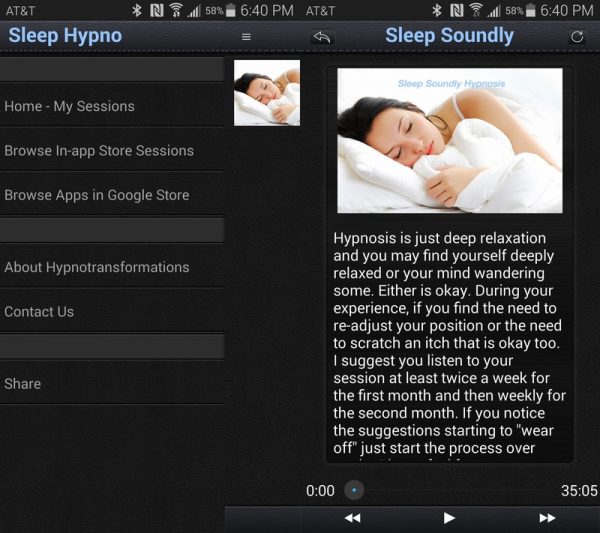 Ignore those polarizing reviews on Google Play. I'm glad that I gave this app a try and it has been my most used sleep app. It is not some kind of music or something, instead, it is suggestive self-hypnosis that helps you get your body into an extremely relaxed state. The first time I used, I was able to sleep within the first 5mins after starting to listen to it.
I highly recommend you this app, and just make sure that you use it with headphones. You will also find in app purchases for many different things like anger management or getting rid of some fears. The sleep session is free.
Deep Sleep with Andrew Johnson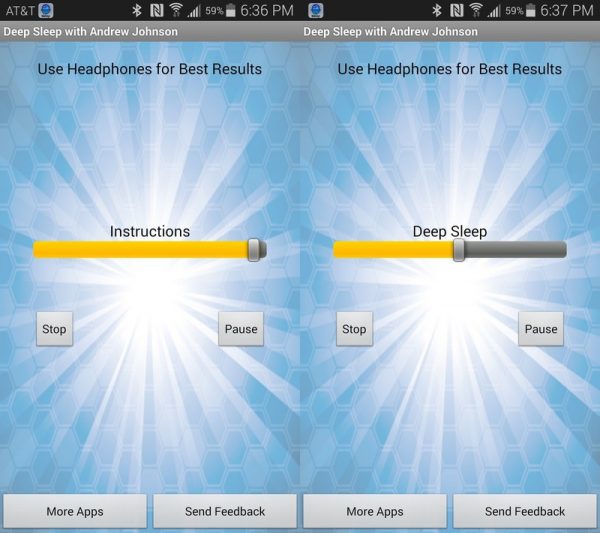 Though it's not the prettiest app on the Google Play Store, it is just the right app for people who find it really hard to clear their head when it's time to sleep. Johnson, who is the creator of the app, is a hypnotherapist who has released many famous and effective audio recordings that help you relax your body and clear your mind when it's time to sleep. So, all you have to do is plug in your headphones and listen to the instructions that Johnson gives. Follow them, and soon you'll wake up to the alarm clock.
Download Deep Sleep with Andrew Johnson
Nature Sounds Relax and Sleep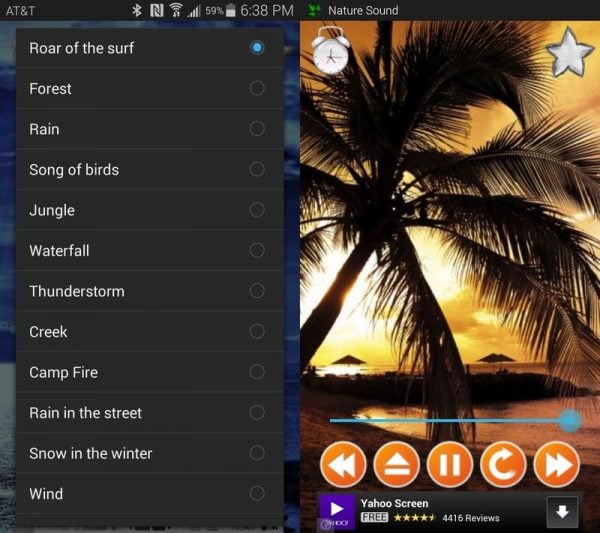 This is best for people who love to listen some pleasant and soothing to focus on their relaxed state of mind and body to fall asleep. Many people say that the sounds of rainfall, crickets or just wind, really helps them fall asleep. Nature Sounds Relax and Sleep app just provides that. Doesn't matter what kind of nature sound you like, you'll find it in this app.
The best way to take advantage of this is to listen to those sounds through headphones, or if you have a great sound system in your house.
Download Nature Sounds Relax and Sleep app.
pzizz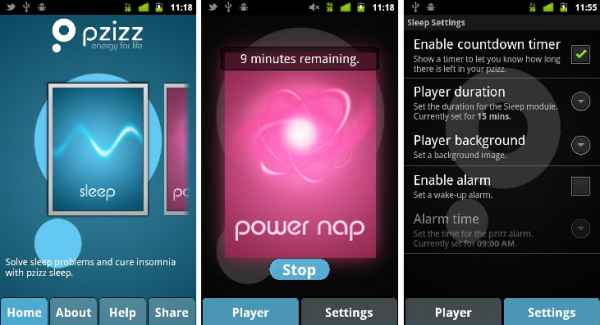 This app will not only help you to fall asleep, it also reduces the stress and boosts the energy. It is designed for sleep at night and for power naps as well. The great thing about this app is the fact it will play a brand-new track each time you tap on Start, which means you won't be bored with the same soundtracks. It is effective and so simple to use, so make sure to try it out! You are going to love it!
Sleep Genius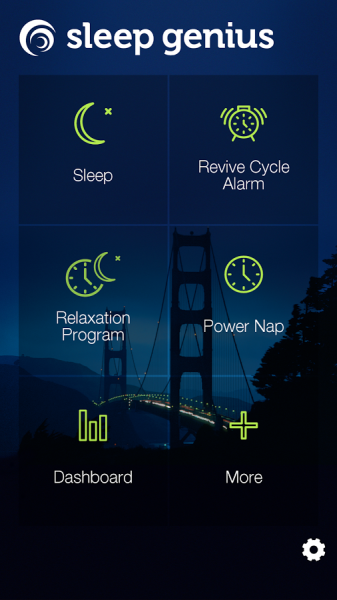 The Sleep genius app was created by the sound, music and sleep experts following the research helping NASA astronauts to sleep. The neurosensory algorithms in the application will help your brain to get ready for sleep, and it will wake you up with the refreshing and gentle alarm. The app is free and it offers in-app purchases so that you can unlock other features, such as music for relaxation, more alarms, etc.
See also The Best Android Apps and Games of October
Over to you…
We went through a lot of different apps that help you get a sound and healthy sleep, these were just perfect for someone like me. And since we are insomnia buddies, do let me know your favorite apps or ways that put you to sleep. The whole comments section is yours. Fire it up.
---