Fewer and fewer companies are paying to advertise on traditional media these days. The industry is not what
Fewer and fewer companies are paying to advertise on traditional media these days. The industry is not what it used to be as more people migrate to the social media arena. This platform is mainly made up of Facebook, Twitter, LinkedIn, YouTube and Instagram. Herein enters the social media management apps for Android. These apps help you to keep track of your social media accounts, both in content and in feedback, to know whether or not your social media posts and adverts are having any impact. Some of the best social media management apps for Android are discussed below.
See also: Best anonymous messaging apps for Android
Best social media management apps for Android
Crowdfire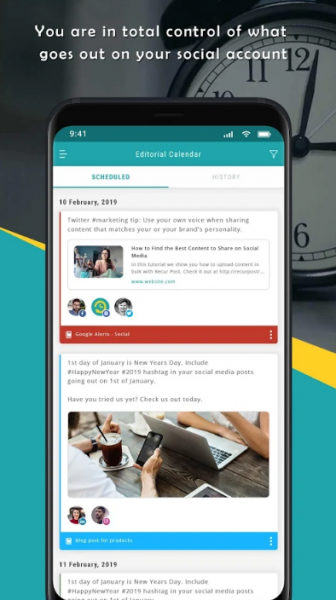 This is an app meant to manage your multiple social media accounts. It helps you optimize your accounts with relevant content and also helps you to re-share when needed. You can make a post on Instagram today and schedule it on the app's calendar to re-share it on your Facebook or Twitter account the next day.
The app also guides you on when to upload a post by suggesting an optimal time. If, for example, you put up a post on Facebook a week ago, Crowdfire proposes an ideal time on when to share it with your Instagram followers or your Twitter followers, so that no account is neglected.
Apphi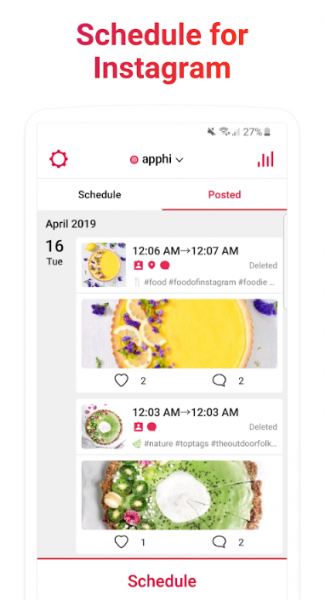 This app only caters to your Instagram account and it does an all-round job of it. Once you install the app on your phone, connect it to your IG account.  Now, should you decide to take a vacation or simply take a break from social media, you can easily do so by scheduling your photos, stories, and videos to be uploaded through the app. More than that, you can also schedule to have the first comment on the post.
The app can manage up to fifty Instagram accounts and is, therefore, the perfect tool for social media agencies who handle multiple clients.
Planoly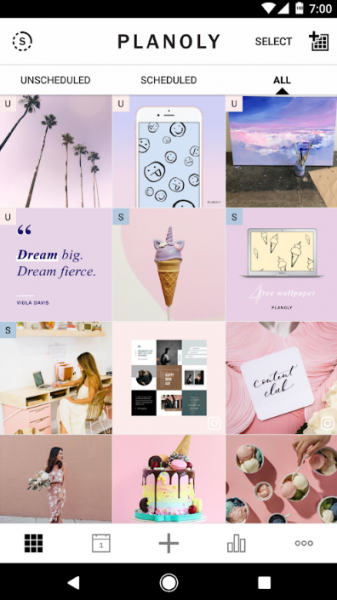 Planoly's adage is to help you 'plan, schedule and post' on your Instagram and Facebook pages. Unlike the previously mentioned Recurpost, this app allows you to schedule both posts and Insta-stories for your page. It is visually inviting as well as user-friendly and quite easy to navigate.
Planoly also helps drive your followers to your website or that of your clients by allowing you to post clickable links along with your posts. This takes them directly to the website that you want them to view.
Lastly, this app gives you the option of whether to auto-post on your behalf or whether to send you a prompt before posting.
Sendible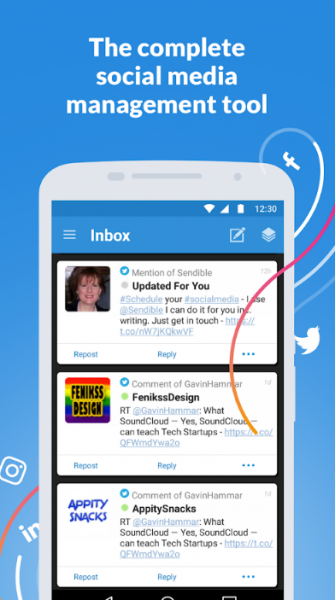 This app is most conducive for social media agencies and businesses. The interface is extremely user-friendly, allowing you to easily manoeuver your way through. The app offers a post preview for Facebook, Twitter, LinkedIn and Instagram which allows you to preview your content before it's posted on social media. There is also a monitoring link which allows you to set up any keyword monitoring. With this, you can follow what people are saying about your brand on social media.
In the 'Bounced' folder' is where any posts that fail to upload, for whatever reason, are stored. Instagram, for example, has a size restriction on the photos that you can upload. So if your scheduled post doesn't go through, it is routed and stored in the Bounced folder.
---