The Blackberry z10 is hitting headlines for its sleek design and awesome functionality. Blackberry has kept
The Blackberry z10 is hitting headlines for its sleek design and awesome functionality. Blackberry has kept up its brand proposition and has met user expectations this time too. But as always, Technobezz will take a sneak peek into the minutest of all issues so that our readers have a flawless mobile experience. We believe that your phone should be the most awesome thing around and everything needs to be fixed most perfectly. More than a few users have been talking about the issue of proximity sensor on their Blackberry z10. This issue is apparent while you make a phone call. Ideally blackberry includes a proximity sensor which shuts off the screen during a phone call
A user complaint
My proximity sensor is not working. My Blackberry Z10 works fine otherwise but the virtual expert is unable to detect motion in proximity sensor test. When I make a phone call, my screen does not become inactive on its own. Sometimes accidently speaker gets tapped or phone gets hanged up.
First, we advise you to perform a little Troubleshooting test to see whether it's the issue to proximity sensor or not.
    Check whether your display dims if you make or answer a phone call
–    Does other features like speaker, hold and hand up become active automatically
Now check the proximity sensor by the following steps
–    You will find the proximity sensor on the top of the front side. Cover it with your finger during a call to verify whether it becomes inactive.
–    Remove your finger in bright light. This should make your display active.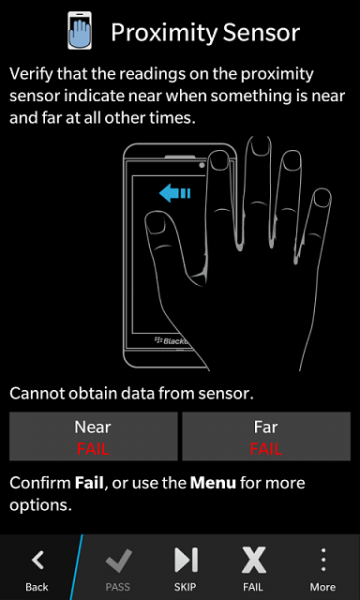 We don't see any obvious manual solution to the problem. The settings menu does not have any option to manage the proximity sensor. A few users have updated the OS to BB10.2 and noticed the same problem. Blackberry, however has clarified that there is no issue with the update and even the device hardware is not the issue. Reportedly, the issue is due to corrupt server data. As per the news, Blackberry has clarified that the server sending sensor calibration information to Blackberry devices was sending corrupt data. This has resulted in the malfunctioning of sensors on the device.
Solution here is to restart your phone as everything has been fixed at the server end itself. No need for any updates either. We must assert that Blackberry has fixed this issue really fast and has helped them to emphasize their brand image.
---