Android has been number one choice for many users. However, Android data loss also seems to be a more common
Android has been number one choice for many users. However, Android data loss also seems to be a more common issue than before. Many of the Android users are troubled if they had deleted photos and videos stored on it accidentally. Common accidental incidents are deleting the wrong files or wrong pictures, or pressing the format button mistakenly are the typical two reasons for data loss on Android phone. People may usually reset their cell phone to factory default settings without any backup of data, or if they are not aware that videos, photos and music files are deleted when they reset the Android phone. There are many other reasons like the memory card is corrupted, phone or memory card failure, virus attack, for example, mobile phone or SD-card not recognized when connected to a computer, memory card asks for formatting when opened on a computer, etc. Therefore, you should also know how to recover deleted photos android device.
One thing to be noted is that once if you delete the pictures or video files, it would be smart not to use your device until the required data is recovered. When a picture is deleted, it won't be deleted permanently from your storage device, it just opens up some space in your storage device for more data. Any operation on your device like taking photos, videos and file transfer can store new data and overwrite that deleted space, which would lead lost data unrecoverable.
You can read the post on how to block calls on Galaxy S6 if you want to block some calls from telemarketers or some particular number.
See also- Best photo editing apps for android
If your photos were saved in an external memory in your mobile, then you have more chances to recover them easily. You may take the memory card out of your mobile phone, and then insert into a card reader to connect it to your computer's USB port. All the card readers when connected to computer will appear as a drive letter in "My Computer" of Windows. You can use any CardRecovery software that is available in the internet to scan the drive letter and can recover the lost photos.
If you are using a MicroSD card, you need a MicroSD card reader, OR a "MicroSD to SD Adapter," with an SD-card reader. A Memory Stick Micro (M2) needs a Memory Stick Micro reader and so on. Memory Card readers can be found from your local computer shops or online shops. When you connect your phone directly to your computer, if the phone memory card appears as a drive letter, the card reader is not required.
How to retrieve deleted photos from android device
There are many apps available in Google play store that will help you to recover deleted photos android. You can try and experiment with several apps to see which one works better for you. However, here are some of our recommendations of apps that are very reliable and easy to use.
The first one is DiskDigger. This can be downloaded directly from the Google Play store and install it on your phone. DiskDigger will directly scan your whole device to recover deleted photos android internal storage and also your mobile external storage (SD memory card) for deleted files.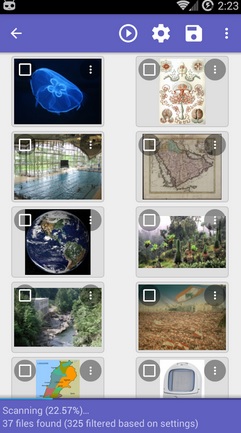 Guide to use the app on how to recover deleted pictures
Step 1: Go to the Google Play store and search for DiskDigger, then download and install the app on your mobile.
Step 2: Open DiskDigger app after successful installation and tap "Refresh List" to populate the screen. Once the screen is populated, select the "System" folder.
Step 3: After selecting the folder, click on "Scan Device" and you can now see the list of most recent deleted files. When you have identified the photo, you want to recover simply select it and click on the Save option to save the photos.
Step 4: DiskDigger app will then ask you the path you want to save the photos and after you choose the destination path, your photo will be saved in memory card or phone system.
There is another alternative you can use Wondershare's Dr. Fone for Android. This is a desktop program which is only available for PC.
Follow the steps to use Wondershare's Dr. Fone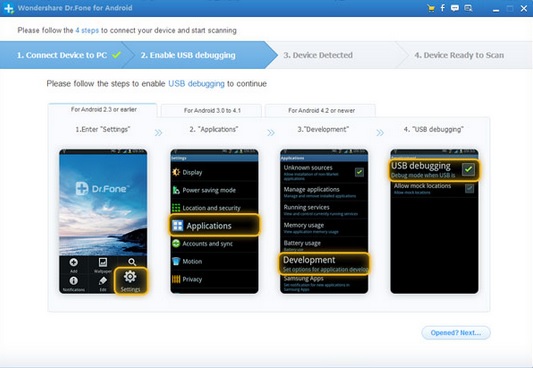 Step 1: Before launching the program or app, make sure your device is connected to your computer and then launch the program.
Step 2: You can see your connected device and press "Start" after selecting your device.
Step 3: The program or application will then scan your device for lost data and show to you in thumbnails.
Step 4: Then you need to select the photos you want to recover and press "Recover" and save the photos where you want to.
---