There is a lot of buzz about the WiFi calling available to customers and many people who are not familiar with
There is a lot of buzz about the WiFi calling available to customers and many people who are not familiar with this keep wondering what is Wi-Fi calling. The WiFi calling feature is a great service as it can be a great cost saver. It is a service which users can take to make unlimited free Wi-Fi calls and texts. A lot of service providers are now offering Wi-Fi calling facility, also many Mobile Virtual Network Providers (MVNO) are there who are offering pure Wi-Fi calling, and you need to use the regular network only when you get out of the range of WiFi. The whole idea behind the WiFi calling is that users today have access to Wi-Fi networks at almost everywhere, be it at home or at the office, so why not to utilize this.
However, to make Wi-Fi calls you don't need service providers. You probably know that this feature is already there in many of the Wi-Fi calling app like WhatsApp, Skype, etc. But making calls from these Wi-Fi calling android apps is only possible when the person you want to call has the same app installed. A user can't make or receive calls from another mobile or a land line number. So to solve this problem, there is a Wi-Fi phone app from Google. It is known as Google Voice. This app offers android Wi-Fi calling free of cost.
Whenever you are receiving a call or text through the Google Voice app, it rings your nominated number, and thus you can receive calls on any mobile or landline number. However, the great thing is that you can use android Wi-Fi calling through this app and you will need either WiFi or your cellular data. And this is possible even without taking any voice plan. The Android comes with a SIP client which is built into the Phone app.
See also- How to fix android "Ok Google" not working issue
Steps to use Wi-Fi calling app to make calls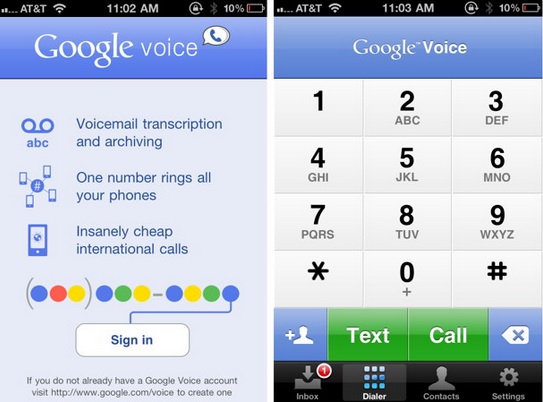 Google Voice Account – First of all, you would need to create a Google Voice account. This is pretty simple and straightforward.
Now you need to download and install the Google Voice App on your device, which supports android Wi-Fi calling. Make sure to disable the forwarding feature otherwise you'll receive duplicate rings and texts.
You would also need to install Sipdroid on your android device. This is to set up an account with the pbxes.org. It is a SIP network that supports Google Voice. When you launch the Sipdroid app, click on the option that says 'New PBX linked to my Google Voice'. After this, complete the other things and get done with it.
Now just login to your Pbxes.org account. Here, go to Extensions option in the sidebar and see Sipdroid there. Note the extension, mostly it is 200, and thus your username for this account would become

[email protected]

.
After this, you need to set up your Phone app. For this, go to Settings on your Android phone and go to Internet Call Settings. Here, open SIP accounts and select add a new account.
Username would be your sipdroid username – username-The extension. (Eg. username-200)
Password – Password would be your password, which was set up for this extension.
Server – pbxes.org
Set as my primary account: checked
Just save the account and your new account would get listed under the SIP accounts, but would be saying Not Receiving Calls.
To turn on call receiving you would have to check the box that shows Receive Incoming Calls. Now, once you do this, your Android would get registered with Pbxes.org with the given account. If everything was done correctly, then your account would read "primary Account. Receiving Calls." If not, then check if the username and password that you entered were correct.
Now you can decide how you would like to use this feature. You can select to use the Internet calling for all calls when data network is available. Or if not, then you can just select only for Internet calls, or can select ask for each call. These settings can be found in Internet Call Settings.
Google Voice App – Now in the Google Voice App which is your Wi-Fi phone app, you would have to disable call forwarding as we already said in the beginning. You can also tweak other settings as per your desire like messaging, etc.
Now you can remove the Sipdroid app as the phone client in your android device acts as the SIP client as well. However, if your device's android version does not support SIP calling, then you would have to keep it.
So this is how you can set up android Wi-Fi calling on your device.
Read also- How to download android lollipop 5.0 on Galaxy S5
---