Launched this year in July, the LG Q6 is a budgeted phone and is one of the best in its range. It features a
Launched this year in July, the LG Q6 is a budgeted phone and is one of the best in its range. It features a 5.5 inch full HD Plus Full Vision Capacitive Touchscreen and runs on Android 7.1.1 out of the box. Loaded with a few more exciting features the LG Q6 is an exciting phone for sure. Here are some LG Q6 tips and tricks that you should know so you can enjoy using your smartphone.
Read also-  Best Features Of LG Q6
LG Q6 Tips and Tricks
Change Your Font Type and Font Size
You don't need to download any third party app to enjoy different fonts. LG Q6 gives you the option to pick from six different fonts – Roboto, LG Smart, KindGothic, Friend, Travel, and Yoo. To change your font you need to go to Settings > Display > Font Type, pick the one that you want to use on your phone. Once you go back to the Display section you have Font Size where you once again have six options from Extra Small to Huge. Depending on how large or small you want your text on the phone to look you can make a choice. You also have a choice to make the text bold just below the Font Size option which you can toggle it on if you want.
Comfort View
Next in the list of LG Q6 tips and tricks is the Comfort View feature. The screen of the smartphones could be stressful for your eyes especially since we are using them excessively and are quite dependant on it for most of our daily activities. This feature turns off the blue light of your device. The blue light makes it possible for you to see your screen even when you are out in bright sunlight. Comfort View makes things more comfortable for your eyes. Go to Settings > Display > Scroll to Comfort View > Toggle it On to enable it. The feature is good to be used in the night or when you are at home or office.
Face Recognition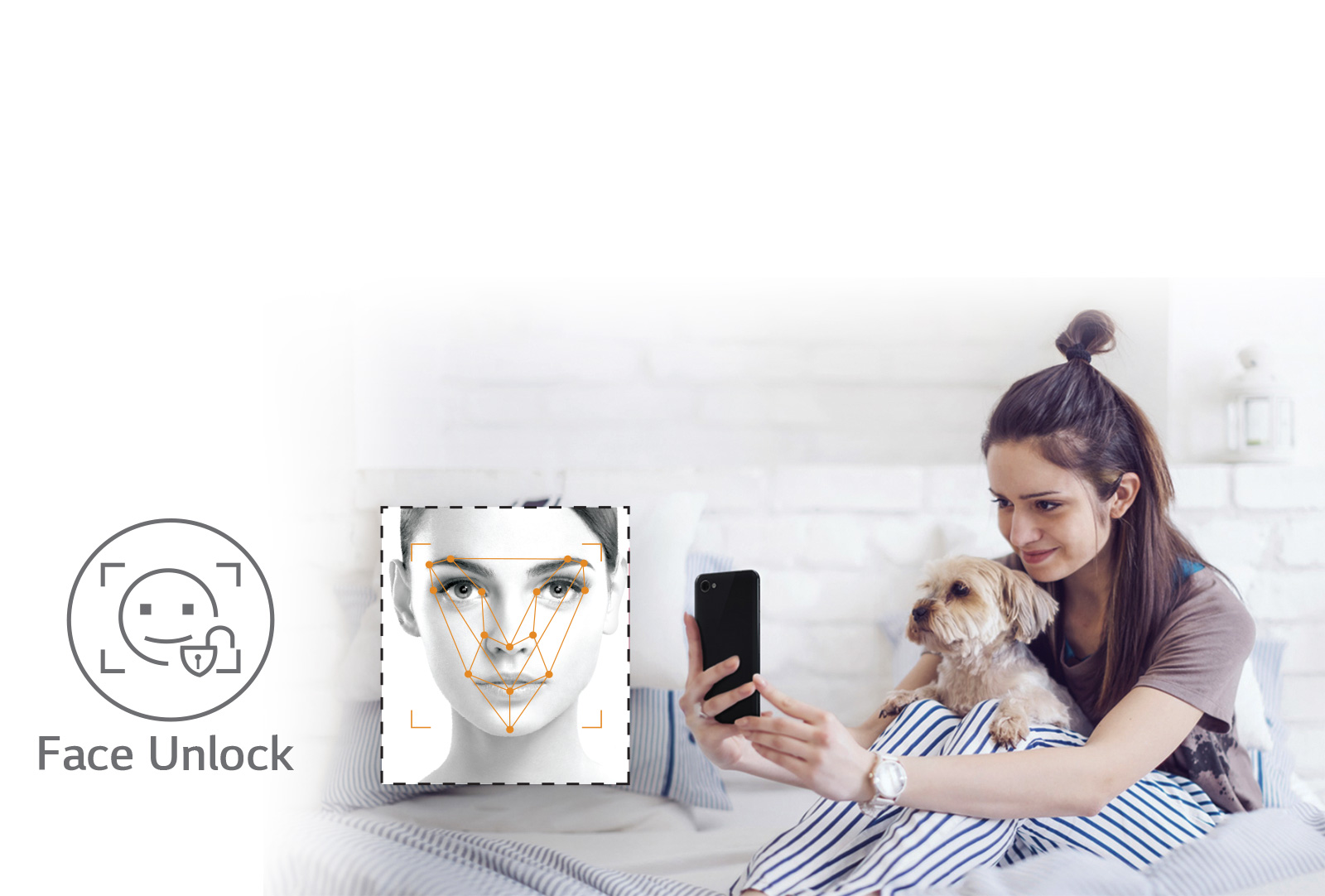 This is one of the most talked biometrics and LG Q6 has it. For those who don't know how to set this up or where this feature is located: go to Settings > Display > Lock Screen > Face Recognition and follow the prompts to set up facial recognition on your smartphone by placing your face within the circular frame so that the phone detects you. Once this is set all you need to do is lift your device to your face to unlock it.
Smart Lock
Since we are already speaking of security of the smartphone then we might as well discuss this trick to give your device an additional layer of security. Go to Settings > Display > Lock Screen > Smart Lock and select the option of your choice from the four that are displayed. Smart Lock is a feature that recognizes the signals to understand where your device is and keeps it locked or unlocked. The four options provided are:
On Body Detection: The phone uses its sensors to identify your hold on it and as you keep it down the phone recognizes this and locks the screen automatically.
Trusted Places: If you add your choice of location where you think your smartphone is safe and nobody is around to touch it then the LG Q6 will remain unlocked. You need to enter your choice of location but to use this feature you need to keep your Location services always on. So for instance, if you have just reached home from your office and your home has been marked under Trusted Places then it will unlock automatically.
Trusted Devices: You can add a device that you use often with your phone and whenever it is around your phone, it will remain unlocked.
Trusted Voice: Saying 'Ok Google' will unlock your phone. You just need to record your voice and the device saves it for recognition.
Contact Details if Your Phone is Lost
This is among the best LG Q6 tips and tricks. There may be instances or situations because of which you may lose your phone and someone finds it. Having a contact detail updated can help you get it back. Here is what you need to do. Go to Settings > Display > Lock Screen > Contact Info for Lost Phone. You have the choice to enter email or phone number of your choice. Once the number or email address is updated this will always be displayed on your locked screen. Since the smartphones these days have a strong security system and cannot be unlocked without PIN, Pattern, Facial Recognition etc. the number displayed on the screen just below the time and date can be used to contact you.
SOS
We live in dire times and never know when we may require help. Go to Settings > SOS Mode > Enter Details. You can add up to three contact numbers who you wish to be contacted when in case of emergency. You just need to press the Power Button three times and an emergency message will be sent to these contacts. Besides your phone will automatically be put in silent mode and any incoming call will be picked up automatically.
Full Screen Display for All Apps
The aspect ratio of LG Q6 is 18:9 and while using some apps or games, a black line is usually displayed on top and at the bottom of the screen which lessens the size of the display of the particular app. Basically, you will be unable to use the full display of your phone. There is a useful tip which will let you use the full screen for that specific app. Go to Settings > Display > App Scaling. You will get a list of apps that have been installed on your phone. Scroll to locate the app for which you want the full-screen view. You will get three different options one of which is Full Screen (18:9). Click on it to set the aspect ratio for that specific app and enjoy it on full screen. You can do it for all the other apps too.
These are some of the best LG Q6 tips and tricks which you can put to use and enjoy!
Read also- How to Use Gesture Shot on LG G6
---