How about paying a tribute to the new Motorola Moto G, the new  Smartphone, that boasts about its features
How about paying a tribute to the new Motorola Moto G, the new  Smartphone, that boasts about its features and its' very competitive price. Motorola Moto G comes to fill the gap between the very cheap and practically evil Smartphones, and the very expensive Smartphones such as iPhone 5S and the Samsung Galaxy S4. Now that's what we can call a new technological threat.
Moto G looks amazing like the Moto X but bares a lot of differences in its electronic features. Its key traits include screen 2.8 inches with a resolution of 720 p, a quad-core processor at 1.2 GHz Snapdragon 400, 1 GB RAM, 5-megapixel camera and 8 GB/16 GB storage space. Quite an analysis and hard disk for a very demanding customer. Moto G comes with 1.3-megapixel camera for second video chat and Hangouts , and battery 2070mAh. Initially, the operation of Moto G will take place in an Android 4.3 environment, with an upgrade to Android 4.4 planned at the beginning of 2014.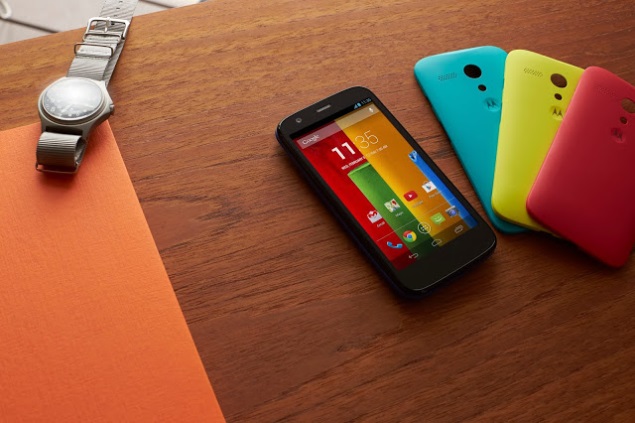 The new Moto G holders are in for a small Google surprise: Just because they trusted this Smartphone, they will get free 50 GB on Google Drive, because Motorola is now a Google company.
Why are we talking about a competitive price? The lowest possible price in the case of Moto G 8 GB goes at $ 179, while Moto G 16 GB $ 199. Looks quite  a small gap considering the bigger hard disk in the second case. Motorola had already announced that the original price was $ 179  without a contract package but is likely to drop even more.
In the presentation of Moto G Motorola CEO, Dennis Woodside, said that the position of Moto G is between Samsung Galaxy Fame, which he considered bad Smartphone  and better quality market smartphones like the IPhone and Samsung Galaxy S4 5S. According to Woodside, Moto G proudly offers better performance than two expensive models.
It is unknown if we will see the Moto G in Southeastern European countries as well as other places in the world , exactly when and at what price. Given the availability of Motorola to sell Moto G to 500,000,000 users worldwide, who cannot afford to pay a lot to buy the iPhone 5S, Samsung Galaxy S4 or the LG G2, it would not be surprising if we see the G and Moto elsewhere as a cheap option for buying an Android smartphone.
---