Sometimes recording calls can be important in several instances. It could be for legal reasons or because someone
Sometimes recording calls can be important in several instances. It could be for legal reasons or because someone wishes to keep a record of certain call logs. Wondering how to record calls on Android devices? We will unravel some of the easiest methods that will help you do just that.
See also: Top 3 Simple Ways To Boost Android's Performance
Is Recording Calls Legal?
Recording calls can be under legal restrictions in some of the countries. Therefore, it is important to check the regulations of recording calls in your area. It is always considered unlawful for public calls to be recorded without anyone's consent. However, if it is allowed in your area to record calls, then you can do it quite easily.
Recording Calls on Android with Google Voice
If you wish to record calls on Android device, then this could be the simplest method. Most of the Android smartphones and tablets come with built-in Google Voice app. Thus, it becomes highly simple to record calls with the help of a Google Voice account. In addition to offering this feature, this app by Google also lets its users record the calls for free (at least some of the calls). When you are using Google Voice, then you are allowed to record only incoming calls.
For using the Google Voice app, you would need a proper Google Voice account. Once you have set up your account, then you can activate the call recording functionality. This is quite easy to do with some simple steps:
Step 1: Go to the homepage of Google Voice app.
Step 2: Select the gear icon present on the upper-right corner of the app. From the drop-down menu, click on the Settings option.
Step 3: Under the Settings page, select Calls option. Here, you would see a box named "Enable Recording". You need to check the same. You will find this box at the bottom of this page.
Once you have enabled the call recording option with the help of the Google Voice app, you can now record the incoming calls by simply pressing the "4" button of your Android device. When you press "4" button on your device, the person at the other end of the call will hear a digital message saying "Call recording is underway". If you wish to stop the call recording, then you can press "4" button again. This would stop the call recording instantly. The recorded call would be saved to your inbox automatically. To access the recordings, go the Google Voice app, head to the Menu option and then selected "recorded" icon.
Recording Calls on Android with Some Third-Party Apps
If you do not have Google Voice app installed on your Android device, then also you can record calls on Android with the help of some third-party apps. To your ease, there is a myriad of third-party apps available out there that are specifically meant for recording calls on the Android devices.
Automatic Call Recorder Pro: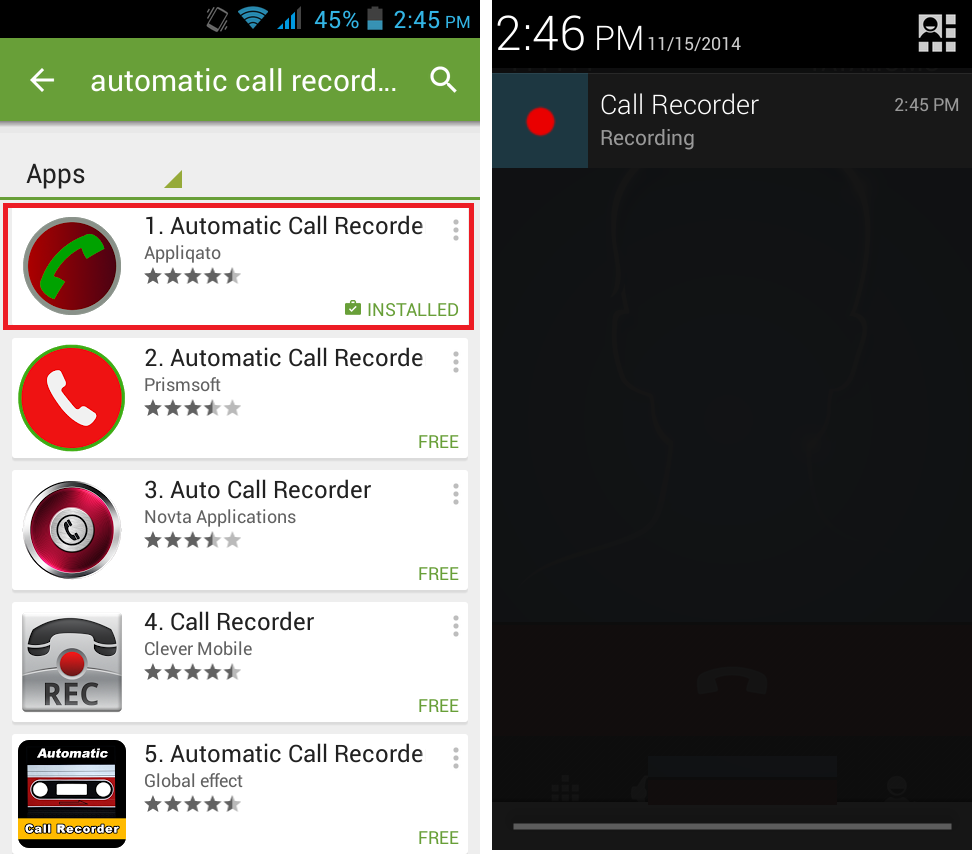 This is one of the best call recording apps in the industry. This app is widely known for its simple to use interface and user interactivity. In addition to looking good, this app functions are good as well. The app comes with a series of customizable settings for the users. This allows you to tweak the audio quality and also set the app for recording every call automatically. Another cool feature presented by this app is the "shake to record". As the name implies, you just need to shake your phone to start recording of the calls. You can save your recordings to various cloud services as well like Dropbox and Google Drive.
Download Automatic Call Recorder Pro
Call Recorder –ACR:
This call recording app is gaining a huge popularity on Google Play Store in the recent times. The app comes with a free version along with a premium version as well. The premium version of the app would cost the users just $3 and it eliminates all the in-app advertisements. Thus, it ensures the enhanced user experience. The overall functioning of this specialized app is highly straightforward and appears good. This app can be used for recording calls automatically and even saves the calls based on the contact numbers.
The users are given the ease of customizing the special features of this app. The app can also be used for deleting the older recordings automatically. However, if you do not wish to do so, then you can mark the particular recordings as important. The best feature is that if you do not wish to record the calls from a certain number, then you can exclude the particular number. The app will not record any calls of the same number. One noticeable feature of this app is that it cannot be used for recording Wi-Fi or on-net calls, only used for cellular call recording.
Recording Calls on Android with an External Call Recorder
Another way to record calls on an Android phone is by making use of an external call recorder. This might not be as simple as using a built-in app and might turn out to be a bit expensive as well. However, it offers the security of your recorded calls in case the call recording app or your phone crashes down. Some of the leading options of the external call recorders for your Android phone are RecorderGear PR200 and Esonic Cell Phone Call Recorder. All you have to do while recording calls with the external call recorder is to plug the recorder into your Android phone with the help of a 3.5 mm jack.
Recording calls have become quite simple with the recent technological advancements. We expect to find some more advanced range of apps or devices to aid the call recording process on the Android devices. Till then, the methods of call recording as mentioned above can serve great options for your ease. Have fun recording!
Read also- Best Free Wallpaper Apps for Android
---