As covered in our recent article, there was significant speculation that Android Wear might get a brand name
As covered in our recent article, there was significant speculation that Android Wear might get a brand name change. It seems that they were not just rumors or distant future plans as Google has officially announced that Android Wear will now be called Android OS. It didn't come from a press statement but through their own website. After the official announcement, the android wear website started redirecting users to www.wearos.google.com. When you visit the website, the first thing that will catch your eye is the brand new logo and their new tagline, "Make every minute matter". Soon after the new website was put up, Google officially announced the name change on Twitter. In the next few days, we should be seeing more info about this change.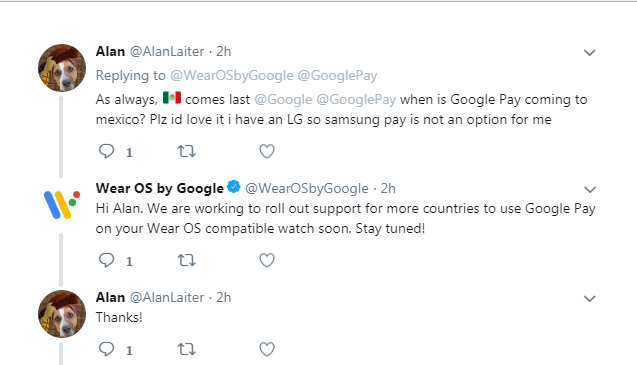 Through posts on their twitter page, various tidbits of information were released in the comment section. Google is planning to expand support so that more countries will be able to use Google Pay through their Wear OS watches. So far, Google Pay can be utilized in the U.S, Canada, Spain, UK, and Australia.
As of now, it is still not understood how big the scope of this change will be! Is it just a case of rebranding or is there anything more to it? Since they have started redirecting traffic to the new website, it's safe to assume that they will be going out with more information soon. As mentioned in our last article, many on Reddit had speculated that the name change could be because these watches are available for iOS too and hence wouldn't make much sense to be branded as "Android" forever.
Wear OS provides different features for Android users and iOS users. However, it seems that a lot of iPhone users are beginning to pick Google software over the iOS counterpart. Though this may lead one to think that Google is dominating the market, the reality is somewhat different. While one out of three Wear OS users was found to be an iPhone user, more than 50 different WEAR OS watches have been released so far.
The most recent update to Android Wear 2.0 was released early 2017 and had brought numerous new features to the smartwatch such as a new U.I, ability to run standalone Apps and many more. Usually, when new products hit the market, we see a sudden increase of competitors quickly coming up with either their versions of the same product or support for the existing leading product. Interestingly enough, manufacturers such as Motorola, HTC, and Samsung have come out stating that they won't be supporting the Wear OS. Although they haven't ruled it out completely, they have stated that there are no plans currently to do so.
Watch this space to know more as new developments in the story roll out.
---