While entering into the world of competition and hard work, we find it very difficult to decide the usefulness
While entering into the world of competition and hard work, we find it very difficult to decide the usefulness of each and every component we use in our daily life. Android has been working on its Applications and resources for years to improve them and to make them as user-friendly as possible. It has made hundreds of Apps to optimize the performance of your mobile phones and still working on creating new applications which are better than the previous ones. We are going to share some of the best apps we may find in the Android cupboard to optimize your Mobiles Phones when needed.
See also- Top 5 best android apps for journalists
List of apps to enhance the performance of your android device
CCleaner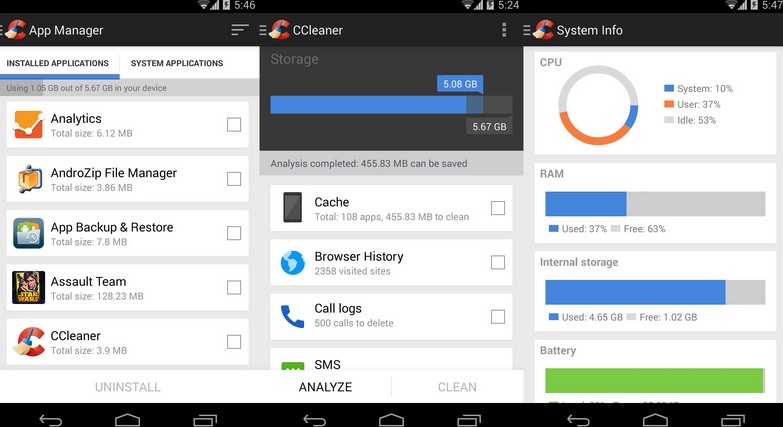 One of the Android Phone memory cleaners that we want to mention first is the CCleaner which is present in almost every Android Mobile phone we are using today. With its user-friendly interface and variety of tasks easy to perform on just one touch, we have in our control almost all Cell phone operations. The App is used both on the Personal computers as well as on the Android Sets. With its capability of easily cleaning the Cache, Browsing history, and Downloaded files, we can get rid of every unfriendly document or Application that is consuming space.
Clean Master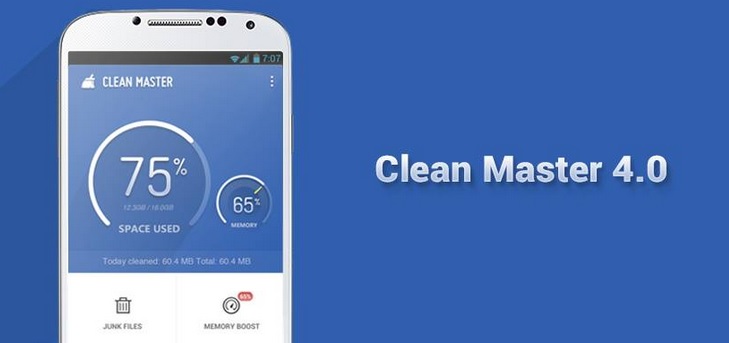 The second in our list is the memory cleaner android app, Clean Master. With its four main features of Junk files, Cleaning, Phone Boost, App Manager and Antivirus the App is popular among many users. You can go into any of these icons and then further select operation which you need to cancel or keep the one you like. With Phone Boost Option you can save a lot of Phone memory, which can be utilized in performing other operations. And with the unwanted Junk File, you can get rid of them easily by just one touch.
Advanced Memory Cleaner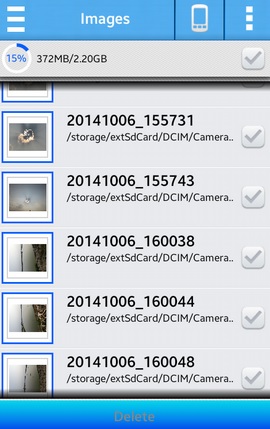 No Cell phone user wants his cell phone to run slow or to consume extra battery due to running un-needed Apps frequently. For those users who want a memory cleaner of android apk, this app is the best option as it's a very light weight and efficient Advanced Memory cleaner. Now what this App does is that either you want an application to close on startup or while running, you can easily choose that App from Menu and then perform the required Operation. By doing this, one can save battery and increase the processing speed of Cell phone. You are also provided with the battery saver option to save your battery if needed by stopping unnecessary applications running in the background.
1 Tap Cleaner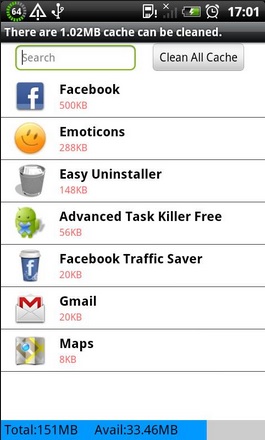 What else can make your work easier than an App, which can stop all the unnecessary applications just on one touch from the Main screen of the Cell Phone? We present to you the best Memory Cleaner for Android phone 1 Tap Cleaner. The App is an integral part of Clean Master App being mentioned above. Either your battery is draining very fast or your processor is running very slow, your Cache is filled or your Call Logs are filled with a huge pile of unwanted information, in such a situation, all you need to do is to just touch on the App and get your device neat and clean. Its most significant feature is the size it takes on the Device is the least among almost all available Android Apps. So what are you waiting for? Install the App from the Play store and get started.
Android Assistant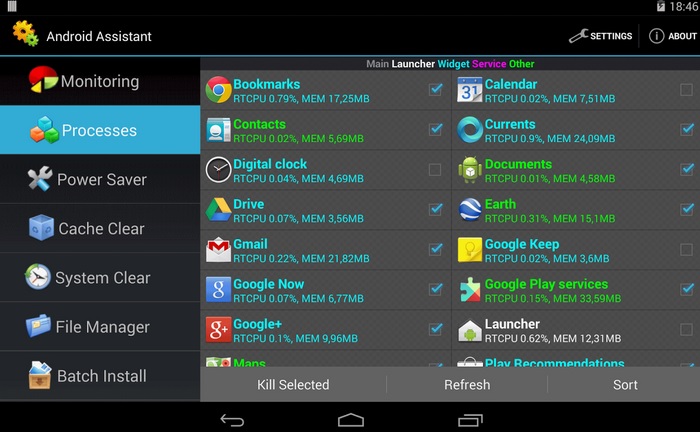 Last on our list is one of the most potent and impressive tools that helps in perfect optimization your Android phone. The size of this App is up to some Megabytes, but the App's results are strong and persuasive to neglect the size of this App. So download this Memory cleaner of android app and enjoy the ultimate advantages of this app.
Android Booster Free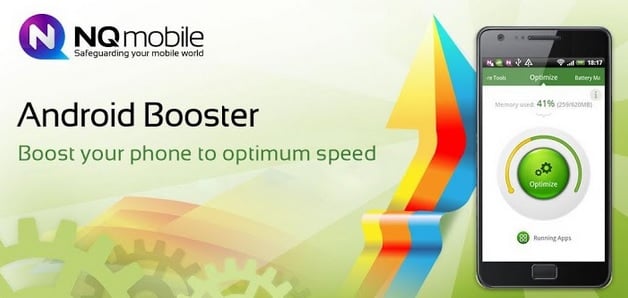 This App utilizes all possible means of optimizing the utilized Cell phone with most of the Android Memory clean options being the same as we have mentioned above. It can work as piracy manager, as well as network and App Manager. You can have your devices cleaned by killing extra memory taking applications.
Greenify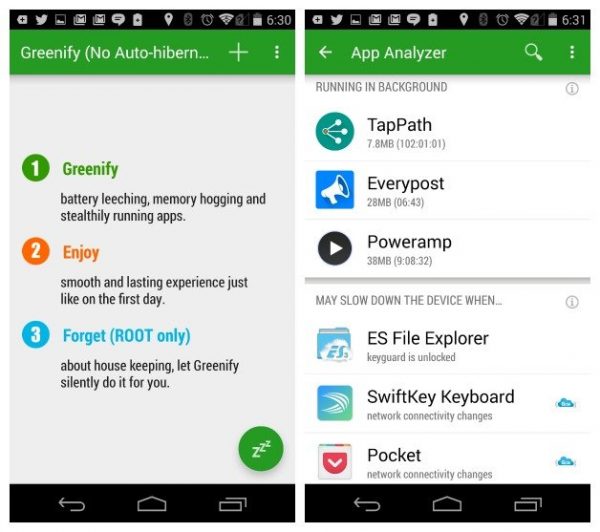 Users complain that when they install many apps, the Android device will slow down and the battery will drain much faster. It is because some of the apps can misbehave. Well, the Greenify app is a solution as it puts the misbehaving apps into hibernations when you don't use them. The battery won't drain fast, and the performance will be excellent.
DU Speed Booster & Cleaner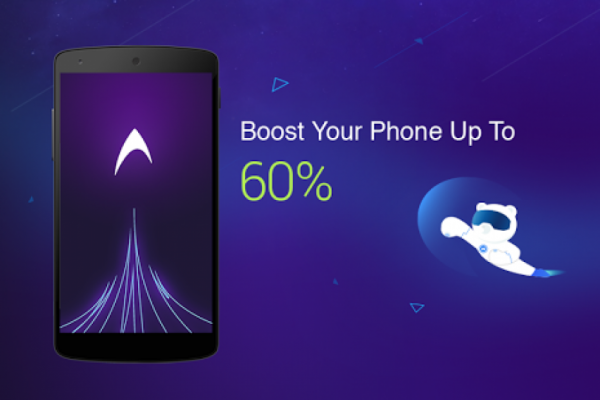 This is all in one app that will boost the performance of your Android device. DU Speed Booster & Cleaner is the app manager, battery optimizer, memory booster, trash cleaner, game booster, ram and speed booster. The app is free, and with more than 10.5 million reviews it has the impressive 4.5 stars in the Google Play Store.
You can also read- Top 5 best android apps for film makers
---