In this article, I will share with you a list of best Android apps for Samsung smart TV.  Smart Tv has captured
In this article, I will share with you a list of best Android apps for Samsung smart TV.  Smart Tv has captured the TV market by its amazing  features. Samsung Smart Tv is loved by so many of its users,The motion Sensor and Gesture is a really amazing feature of the Samsung Smart Tv. Therefore, Apps are created on the Google Play store to utilize this feature to the best of its ability.
Top Best Android Apps Samsung Smart TV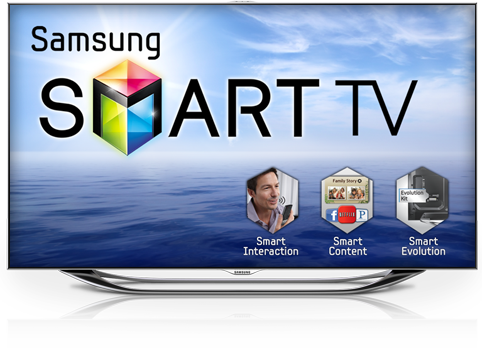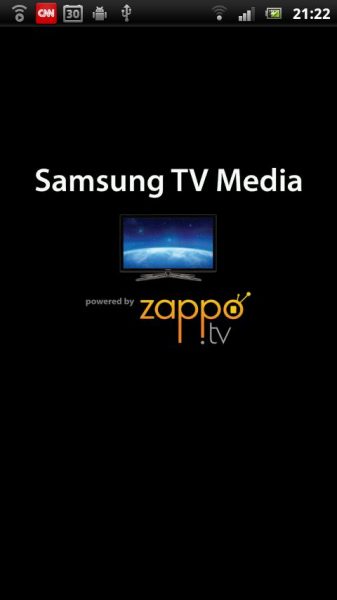 The Samsung TV Media Player  Is a well-rounded app that unleashes the powerful functionalities of the Samsung Smart TV. The Features OF this app includes
FEATURES
• Video search
• Add to favorites
• View and manage history
• Watch on TV
• Create and manage music playlists
• Sharing
• Continuous video and music play
• Upload videos and photos
• Access to your DLNA Home Media Servers (This feature is an in-app purchase.)
BROWSE:
• Search and find your music, photos, and videos from multiple content sources including your Android device, your home network or the Internet.
• Share via e-mail, Twitter, and Facebook
Content includes:
• Video Podcasts
• YouTube videos
• Your Music, photos, and videos from your Android device
• SHOUTcast Internet radio
• Facebook videos and photos from you and your friends
• Flickr photos
• Picasa (Web Album) photos
• Local Media Servers, any DLNA or UPnP AV Media Servers in your home network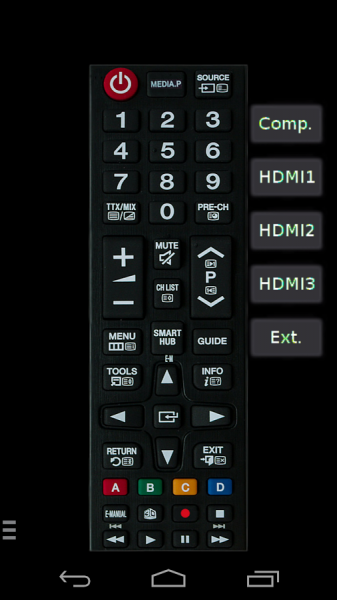 I love this app because sometimes when I cannot find my remote , it gives me ease to change and navigate channel with my smartphone.Also, it's packed with built-in IR blaster (Samsung Galaxy, HTC ONE etc)
Any Samsung Galaxy Phone Can work and tablets with built-in IR sender
Features:
Works with some phones with Android compatible built-in IR sender and Android 4.4 KitKat like HTC ONE.
★ You must point your phone's IR blaster directly at the TV. The usual working range is 1-3 (max ~5 meters).
★ NO additional hardware is needed
★ No full screen / pop-up ads.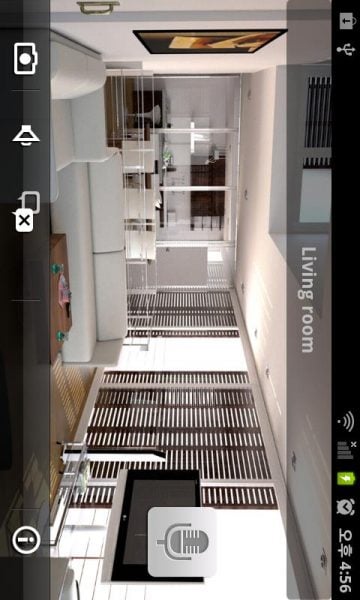 Features
View Live Video
– Supported format: H.264
– Event alarm notification service
– Easy video monitoring in the 3G mobile and Wi-Fi environment
– Two-way audio communication
◎ This application uses FFmpeg and SDL under LGPL v2.1
◎ The device can limit the number of users depending on network traffic status.
◎ Audio playback may not be smooth in HQ mode. In this case, we recommend you to operate in normal mode.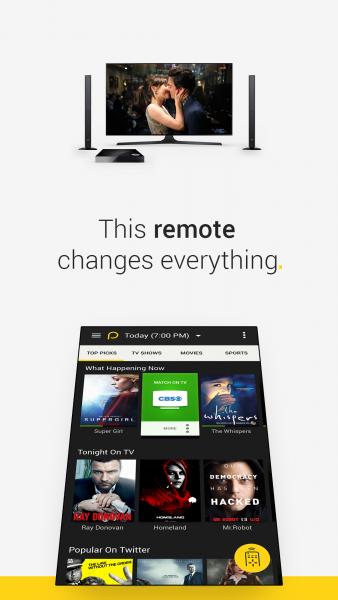 Smartphone models from Samsung, LG, HTC, Xiaomi and other manufacturers have built-in infrared IR blaster and by using it, you can control your TV, but not just that. You can also control your home audio system, DVD player, heater, air conditioner, etc. It is easy to use and easy to set up. Replace the remotes with this amazing solution and control your Samsung TV and all the other devices. Peel will keep the track of the things you like to watch, and based on that, it will recommend movies and TV shows you will love.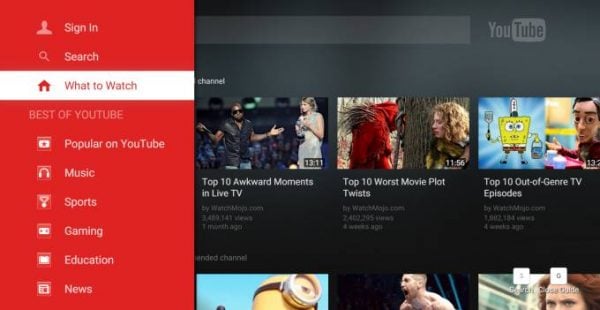 We can't forget YouTube. Most of us watch at least a few clips on YouTube every day, and now you can enjoy your favorite videos on your smart TV.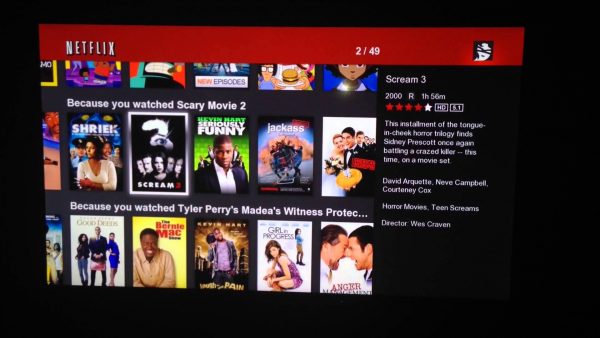 Same as YouTube, Netflix doesn't need any special introduction. Watch your favorite TV shows and movies on your smart TV. If you haven't tried Netflix yet, don't forget there is a 1-month free trial. After that, choose the plan that suits you the most ($7.99-$11.99). You can change the plan anytime you want, and you can also cancel your Netflix membership whenever you want.
For more information, visit Netflix website.

Hulu is a video streaming service that offers a wide range of TV shows, movies, and videos. There are two plans to choose from. The first one is with limited commercials and it comes with the price of $7.99 per month. The second one is with no commercials and it costs $11.99. There is a 1-month free trial.
For more information, visit Hulu website.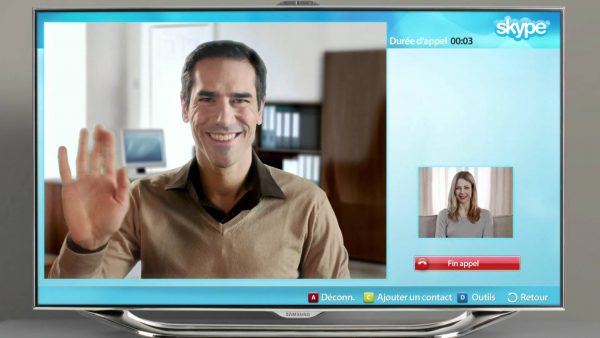 Using Skype you can make audio and video calls, and the chances are you are using this software for years on your computer, laptop, or Android smartphone or tablet. Now, you can use it on your smart TV. In case you don't have the Skype account, visit Skype official website and create one.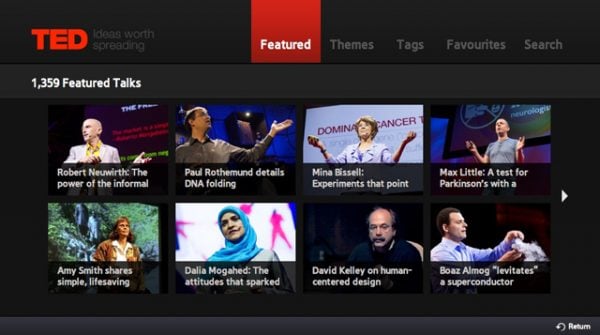 With this awesome app, you will get the access to talks from some of the most influential and most fascinating people, from leaders to tech geniuses. Make sure to try out this app and learn something new and exciting every day!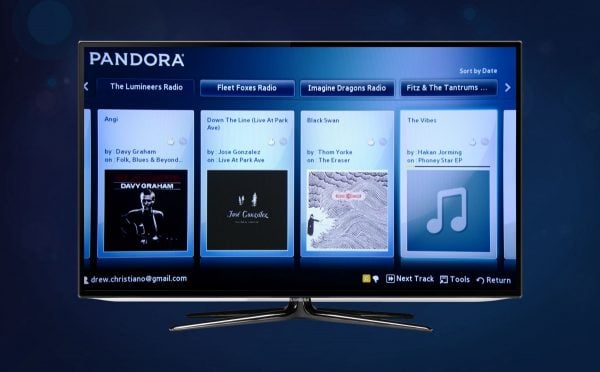 With Pandora, you get to enjoy the best free radio service. Once you launch the app, start with the name your favorite song, artist or  music genre and the application will do the rest. Create a free account and listen to your favorite songs.
---