Are you in search of the best board games? Then probably your search will end here as we have listed some of
Are you in search of the best board games? Then probably your search will end here as we have listed some of the best board games for Android and iOS. We all remember our childhood days when we have spent some quality time playing the board games with our family members, friends, and close ones. And thankfully all those board games we used to play in the earlier time are available on the mobile devices as well. So, no need of buying any physical board games now as you can enjoy them in the Android and iOS devices smoothly.
Some of the best board games for Android and iOS are listed down here while some games are available for both the platform some games are limited to only Android or else iOS.
See also: The top best Android apps for Samsung Smart TV
9 Best Board Games For Android And iOS
Ticket to Ride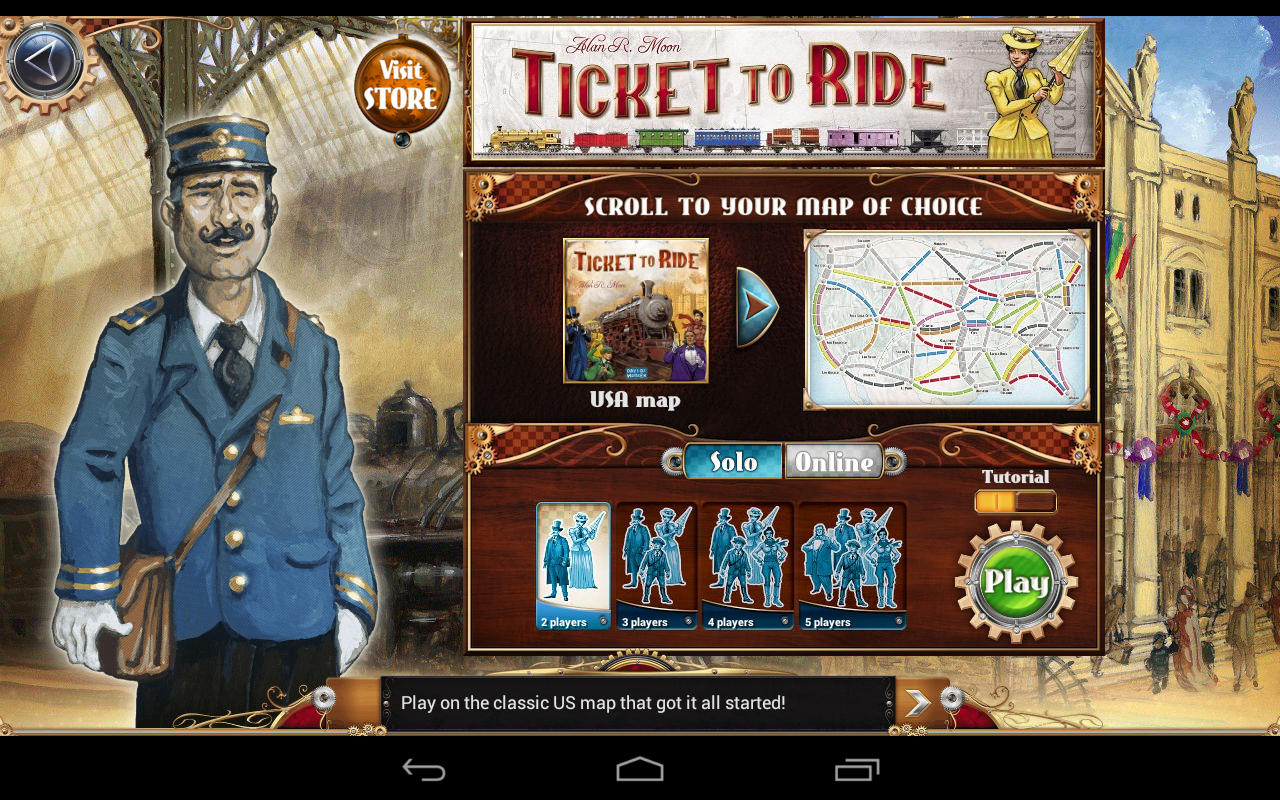 This is one of the best board game that is available for both the platform Android and iOS. This game is a cross-country train adventure game where the users are required to collect as many cards as possible which are of the various train and then they can claim the different types of train routes that connect the cities in numerous countries across the globe. It is one of the very old cardboard games that have won numerous international awards while the number of games sold crosses around 3millions. It has a unique and strategically rewarding gameplay with inviting presentation and accessible mechanics.
Download Ticket to Ride for Android
Download Ticket to Ride for iOS
Twilight Struggle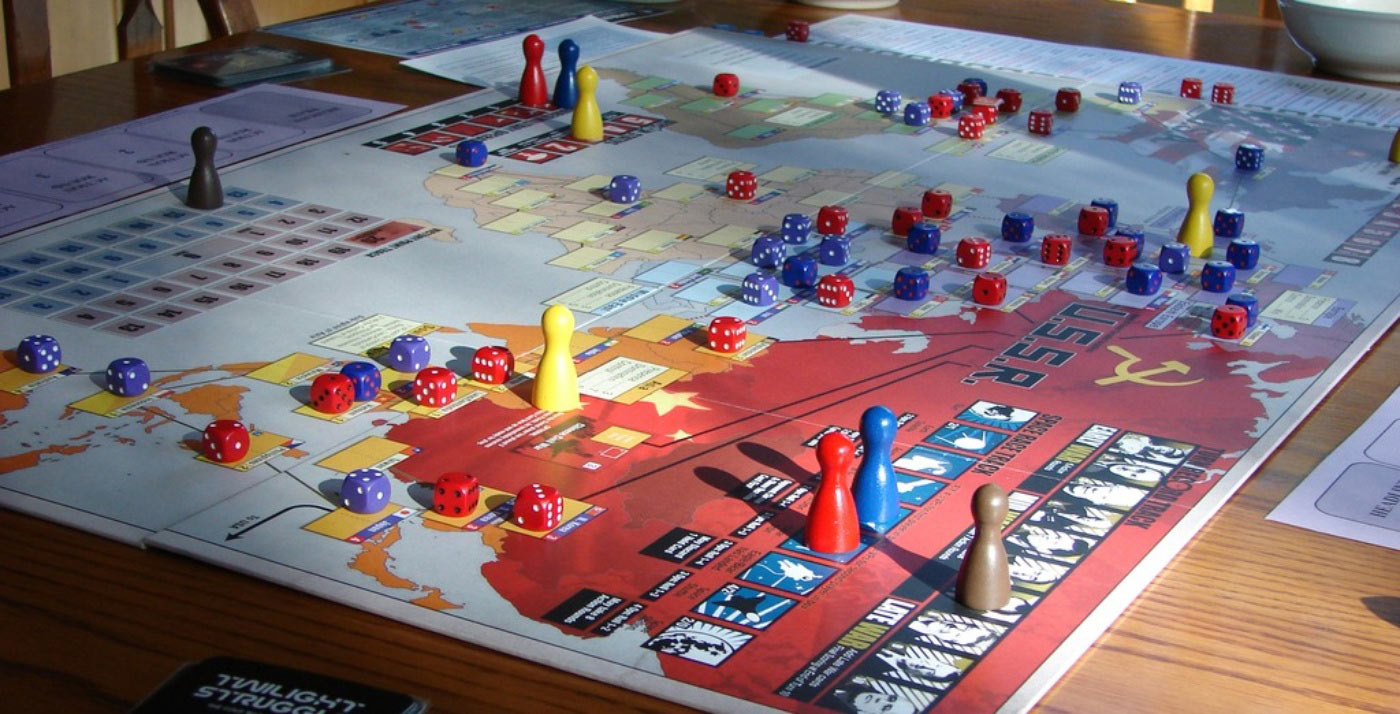 This is another beautiful board game for Android and iOS that reflects the cold war which happened during the time span 1945-1989. This is actually a two player game which simulates the 45 years of prestige, intrigue, and the warfare between United States and Soviet Union. These two titans fight in order to make their way of life and own ideologies safe. Not just the Android or iOS rather it can be enjoyed in the Windows phone as well. So, go get this game in your device irrespective of which set you are using and it will ensure to pass some quality time.
Download Twilight Struggle for Android
Download Twilight Struggle for iOS
Colt Express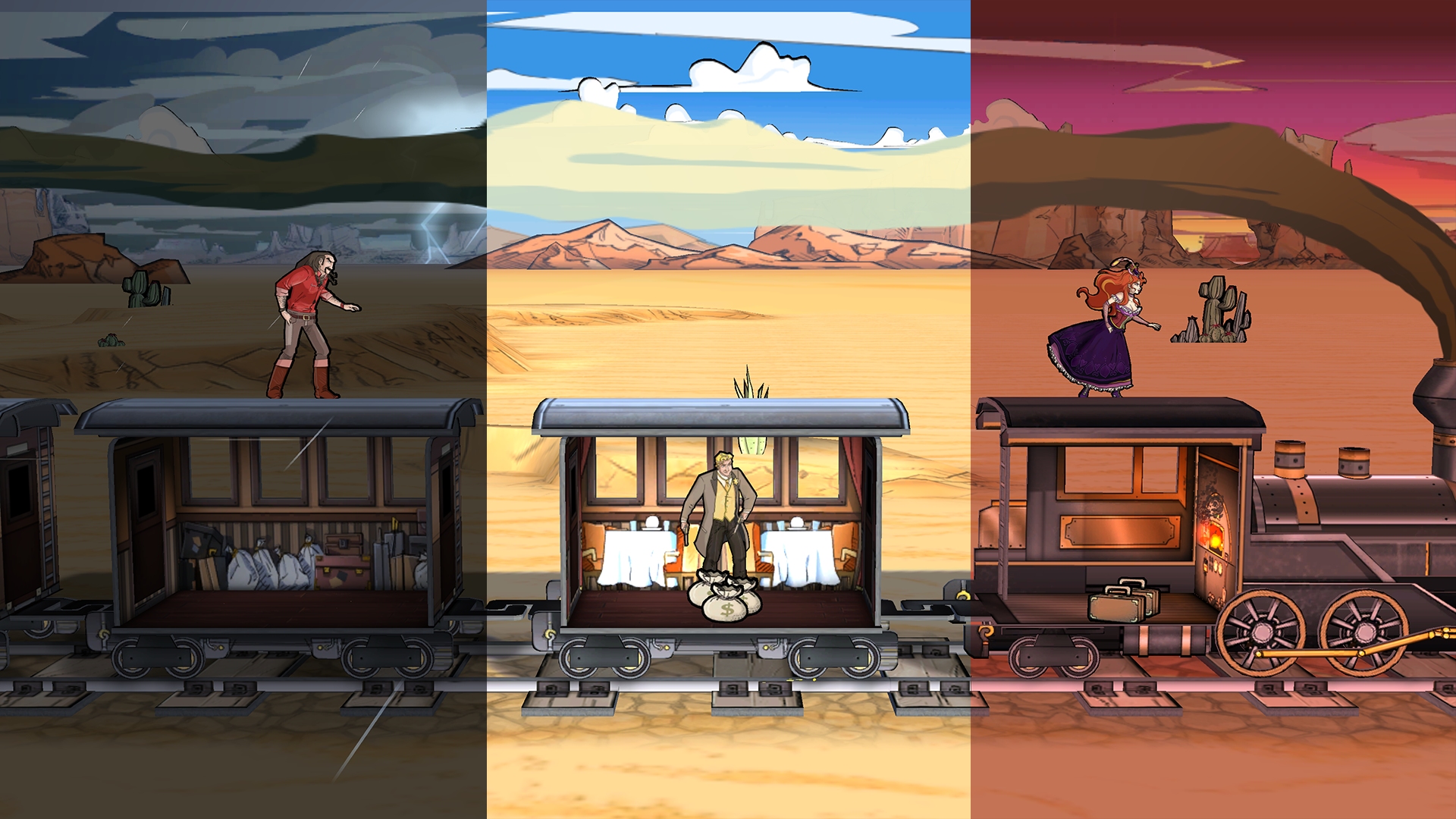 One of the best board games for iOS and Android that involves numerous surprises where the main aim is to rob a train. You will play a bandit to rob the train along with other bandits while the main goal is to be the richest outlaw in the Old West. The train has as many cars as the number of bandits and every car is loaded initially with gems and bags of loots or else suitcase. The bandit can move and run in the train from one car to another while they can also run on the roof of the train, punch and shoot other bandits, rob the passengers etc. to accomplish their own job. Overall this is a very interesting game which reveals numerous surprises with time.
Download for Colt Express Android
Carcassonne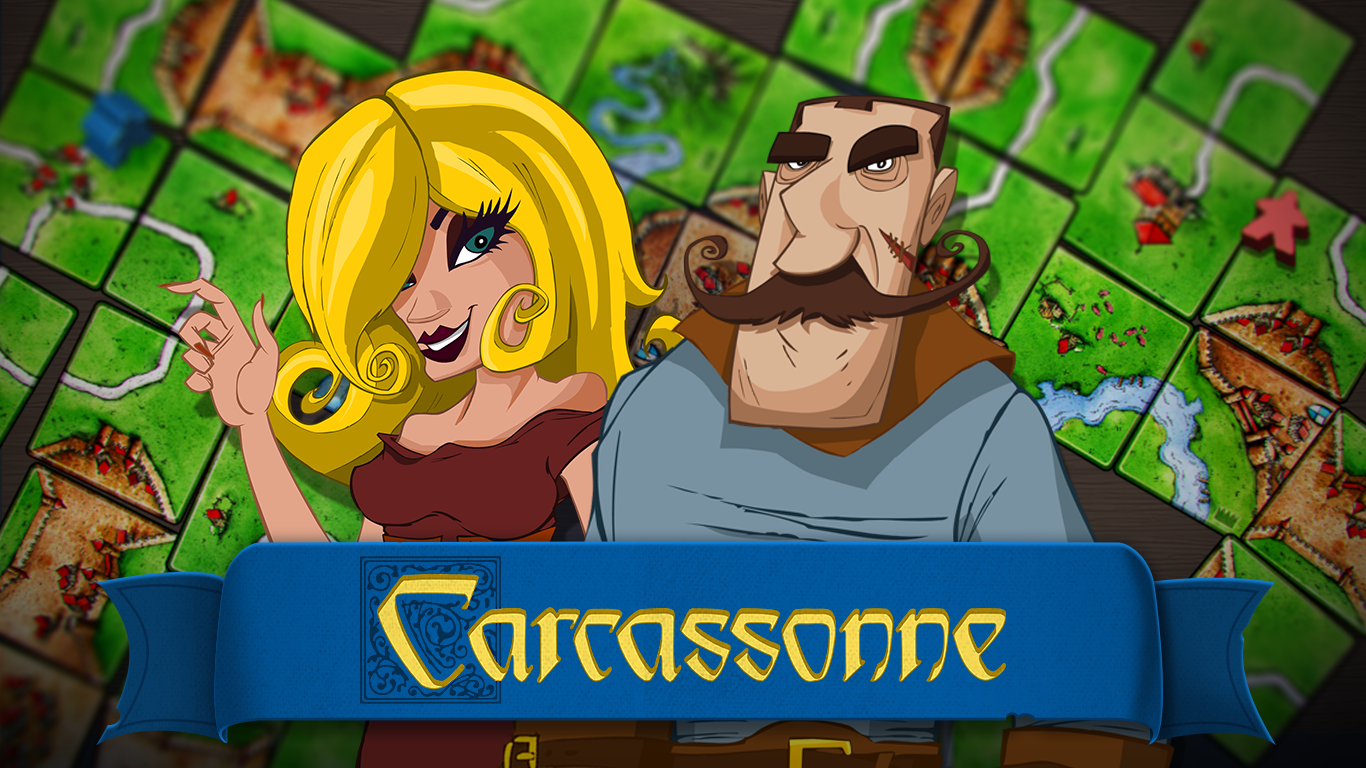 This is a tile based board game available for both iOS and Android devices where the players are required to create their own game board while they start playing. What is to be done here is try to lay the tile in every turn and then deploy all the units to take the board strategically. The main reason why this game is being liked by all is this can be played with 6 players. So, you can play it with all family members altogether. Also, the expansion pack let you uncover more play options. And finally, who will be able to collect more points will win the game.
Download Carcassonne for Android
Elder Sign: Omens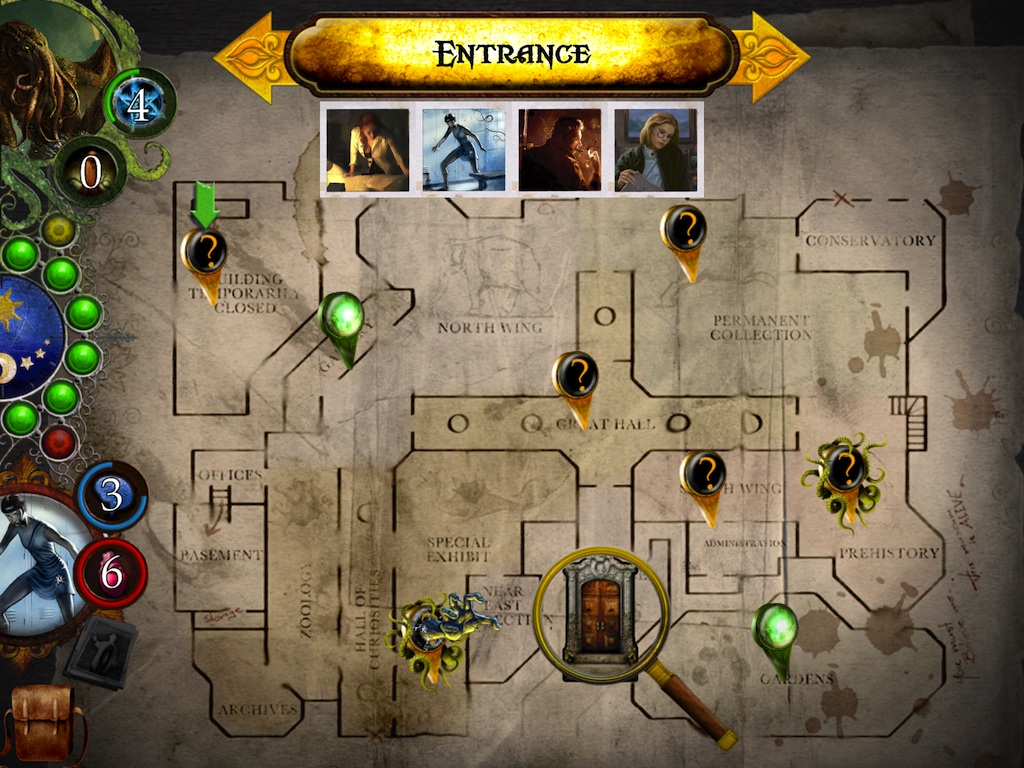 Elder Sign: Omens is one of the best board games for Android that is also available for iPhone and iPad. It is a tactical board game that is based in mystery and the player should look for numerous clues, arcane items etc. on the board. Also you need to compete in the game for Ancient ones but the number is limited and it can be decided by you as well to handle the game's difficulty. While the Elder Sign: Omens app let you play the game smoothly the in-app purchase will allow you unveil some more features.
Download Elder Sign: Omens for Android
Download Elder Sign: Omens for iOS
Suburbia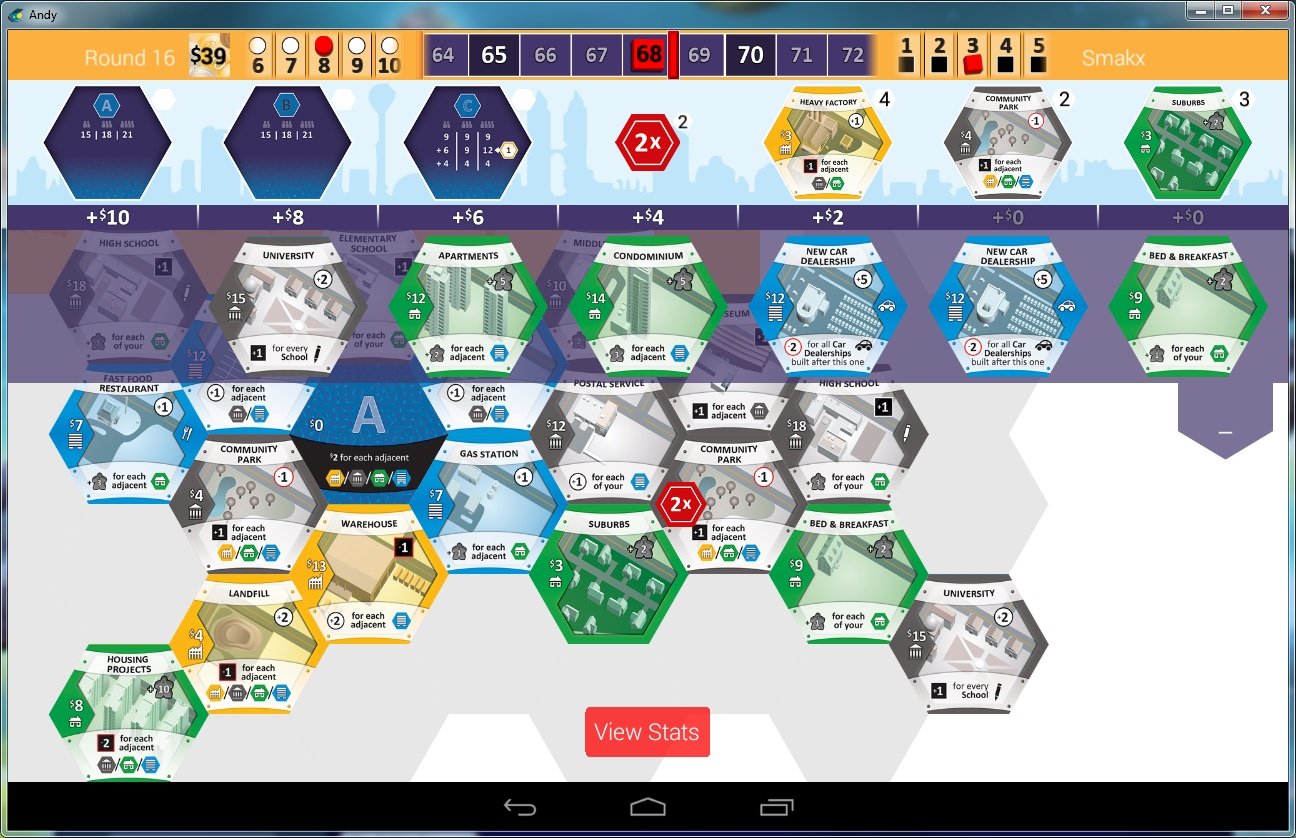 This game is all about building a modern city which is far from all that battles and adventures that you have come across in other board games. However, it also contains some rule and regulations which make this digital conversion a blessing. The abstract gameplay, sleek UI design, bright colors and the sharp edges are really enjoyable. While you as a city planner you will try to build the residential and commercial, public and industrial district, at the same time other player's plan is to be disrupted. This board game too is available for both the Android and iOS platform.
Splendor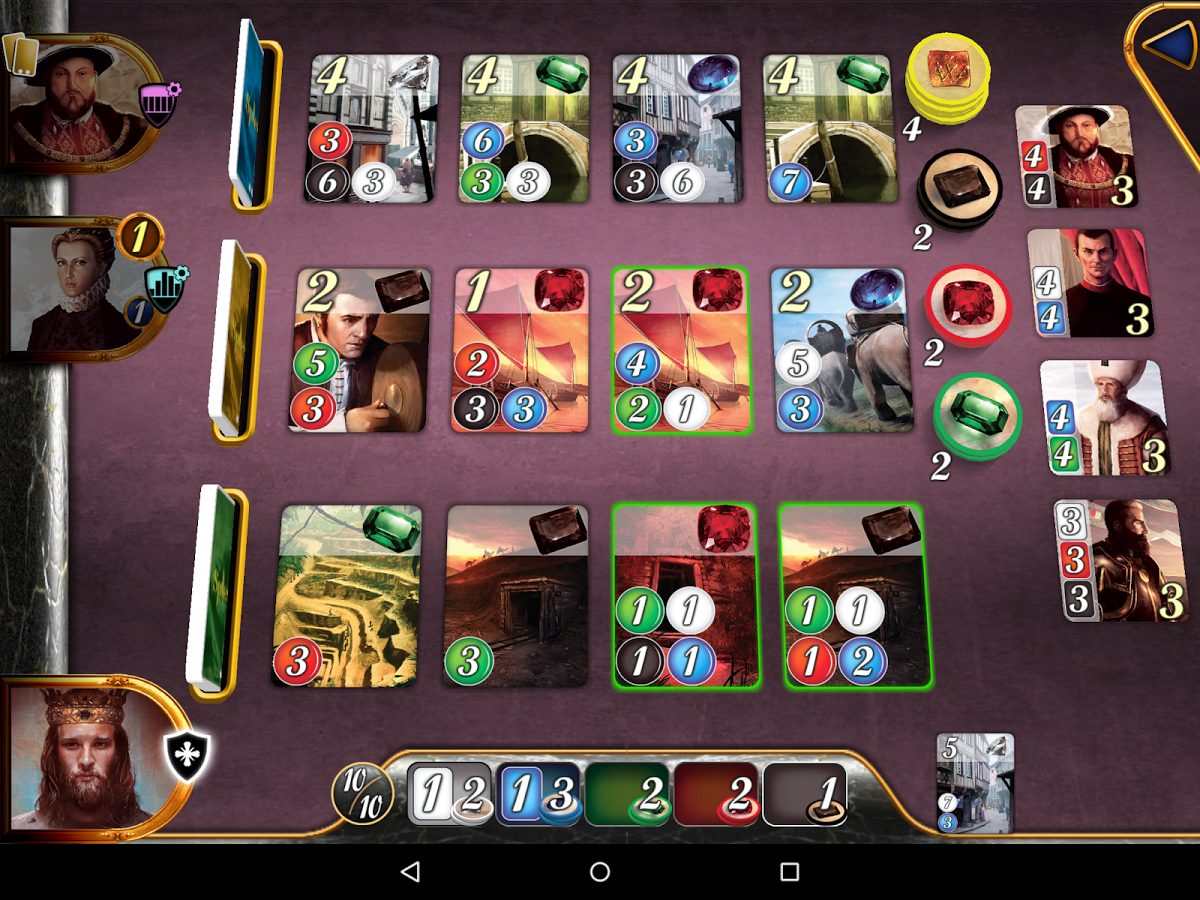 This is one of the most exciting and best board games which is too easy to learn and quick to play. What you are required to do in this game is establish yourself as a master of gem cutter to win the attention of wealthy noble. Try to earn as many possible as colored gems, use them to collect cards which will ultimately offer you prestige points. A large number of prestige points will allow you to win the favour of ladies and lords. The app has added a new feature in the game very recently that allows users to be engaged in the online multi players.
 Catan

Catan is another fun and easy game that all can enjoy in their Android devices. The main aim of the game is to build the longest road with the help of largest army which will allow you to win the game. While online multi players feature allow players to play the game with several players it can be played offline as well with the AI competitors. The in app purchase will let you enjoy additional scenarios so, if you have heavy pocket then go for the in-app purchase and explore the Catan board game at your best.
Battleships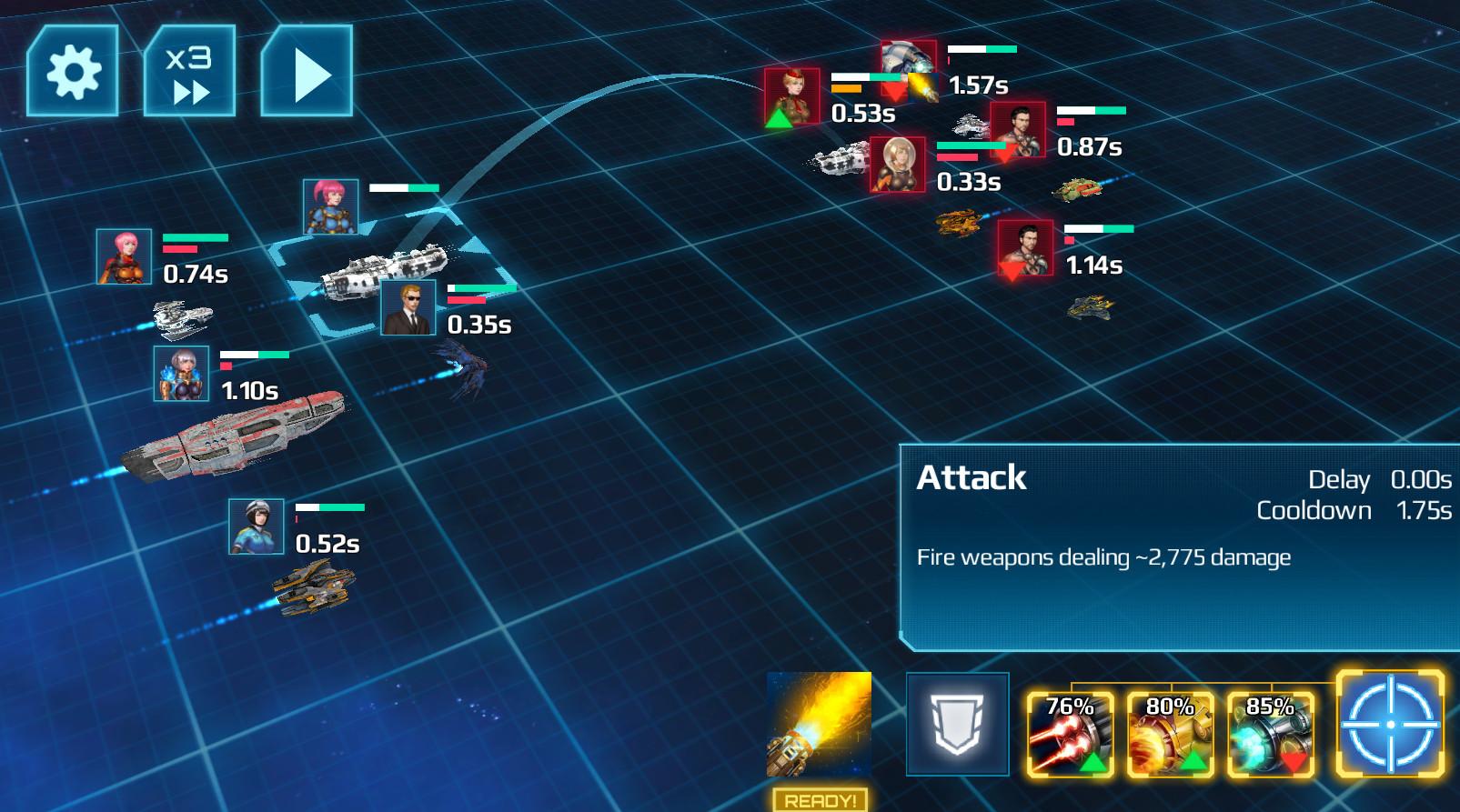 Have you ever played that popular Battleship game? If, yes then you will have some idea about this game as it is very similar to that. This is definitely one of the best board games that has great gameplay online while it is really a fun to play it. In this game, you and your opponent will post up the ships on a game board and then take a turn after guessing where actually the opponent's ships are. The main aim is to sink the opponents ships and who can do this first will win the game. The most interesting fact about this best board games for Android is it is available at free completely. So, not a single penny will be spent from your pocket to enjoy the game.
Download Battleship for Android
So, we have mentioned here the 9 best board games for Android and iOS. While most of the games stated here are available for both platforms, only a few of them are limited to one platform either Android or iOS. Anyways, whatever phone you are using you can get all the games mentioned here to enjoy them on your smartphone.
See Also: Top best beauty apps for Android
---