The need for digital voice assistant is gearing up. Both Apple and Google have their personalized voice assistants.
The need for digital voice assistant is gearing up. Both Apple and Google have their personalized voice assistants. Now, Microsoft has also launched its own version of the digital voice assistant as Cortana for the Android devices. If you happen to be a game freak, then you must remember Cortana as an impressive artificial intelligence character from the Halo game series. However, this name has now been given a new edge by Microsoft as the latest voice-operated digital assistant on Android devices. As it is now available on Android devices, this voice assistant is directly competing with the Google's "OK Google" voice assistant.  Anyways, wondering how to use Cortana for Android? Here we will explain everything in more details. But, before plunging into finding answers about who is superior, let us firstly unravel the working of Cortana for Android.
See Also: How to speed up 3G connection on Android
What Is Cortana?
Cortana is the response from Microsoft to various other similar services including Siri and Google Now. On an overall basis, it can be considered to be an effective digital assistant application that helps an individual in better organizing one's life with the help of voice commands, proactive information, and quick options. One can easily get details about the latest sports game, set alarms at an instant, organize the calendar, contact important people and even have some humor with Cortana. Owing to its immense list of benefits, let us unveil how to use Cortana for Android.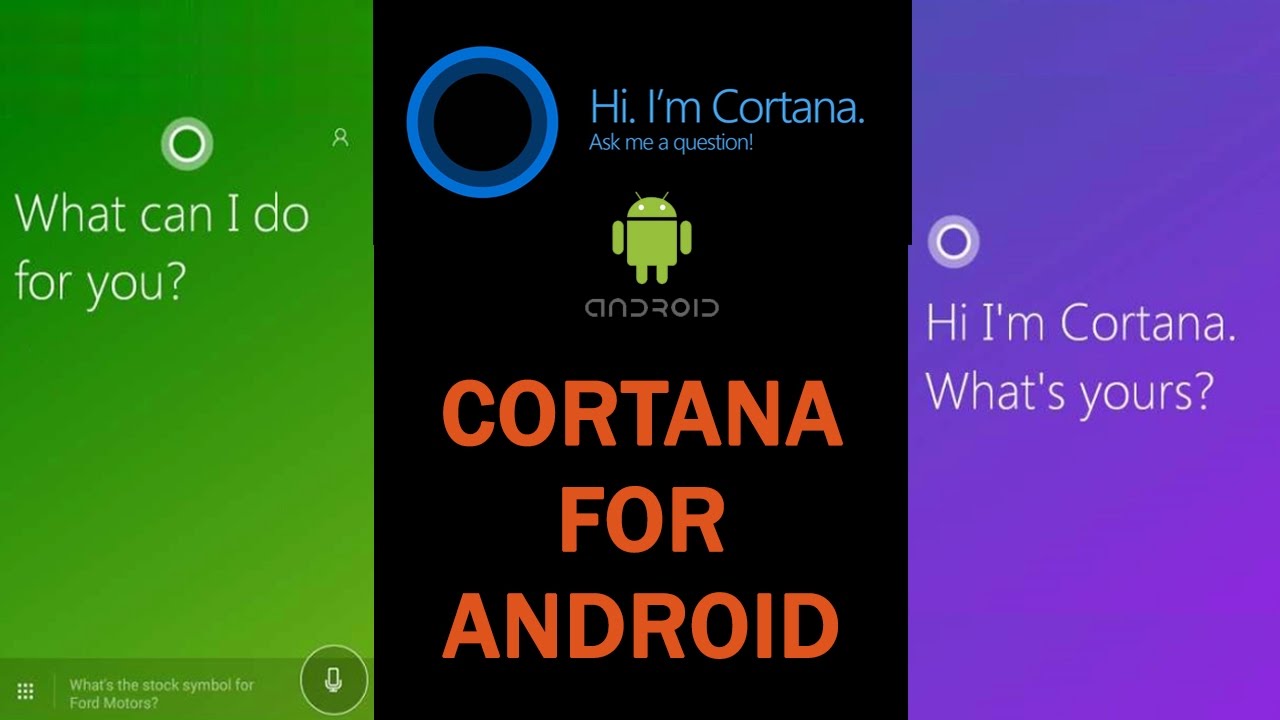 How To Use Cortana For Android
The first thing you need to do is to get the app for your device. It is available in Google Play Store.
Cortana Home
This is where much of magic happens on your Android device. It is the Home area where one can type the particular inquiry or can even start a voice action. These particular commands are present at the bottom of the Home page. The users simply need to use voice or type something for performing several types of commands. The users can simply ask the Cortana for searching a particular content, placing certain phone calls, setting reminders or calls, showing the weather conditions and so more. You just need to tap the microphone or text icon for jumping the Cortana into action.
Once you look slightly higher, you would observe a crowd information. Microsoft decided to place the cards at the center and front locations. Highly similar to Google Now, Cortana also presents the users with card-style blocks for offering a quick look at the desired information. The relevant information might include that of the weather information, sports, local events, travel info, food spots in one's vicinity, finance updates, and so more. All of these can be controlled from the Notebook section of the Cortana voice assistant by simply touching the next icon.
Microsoft has done its research on the right boxes present on Cortana for Android. The welcoming Home page is highly simple and full of important information that can be easily customized. Moreover, it also includes all the input methods that any user might need.
Notebook Section
The next on Cortana for Android comes the Notebook section. The main point about the latest digital voice assistants like Cortana and Google Now is that these are personalized. It would thus, depend on the users about the number of cards they like to see on Cortana for Android. This is where the part how to use Cortana for Android comes into play.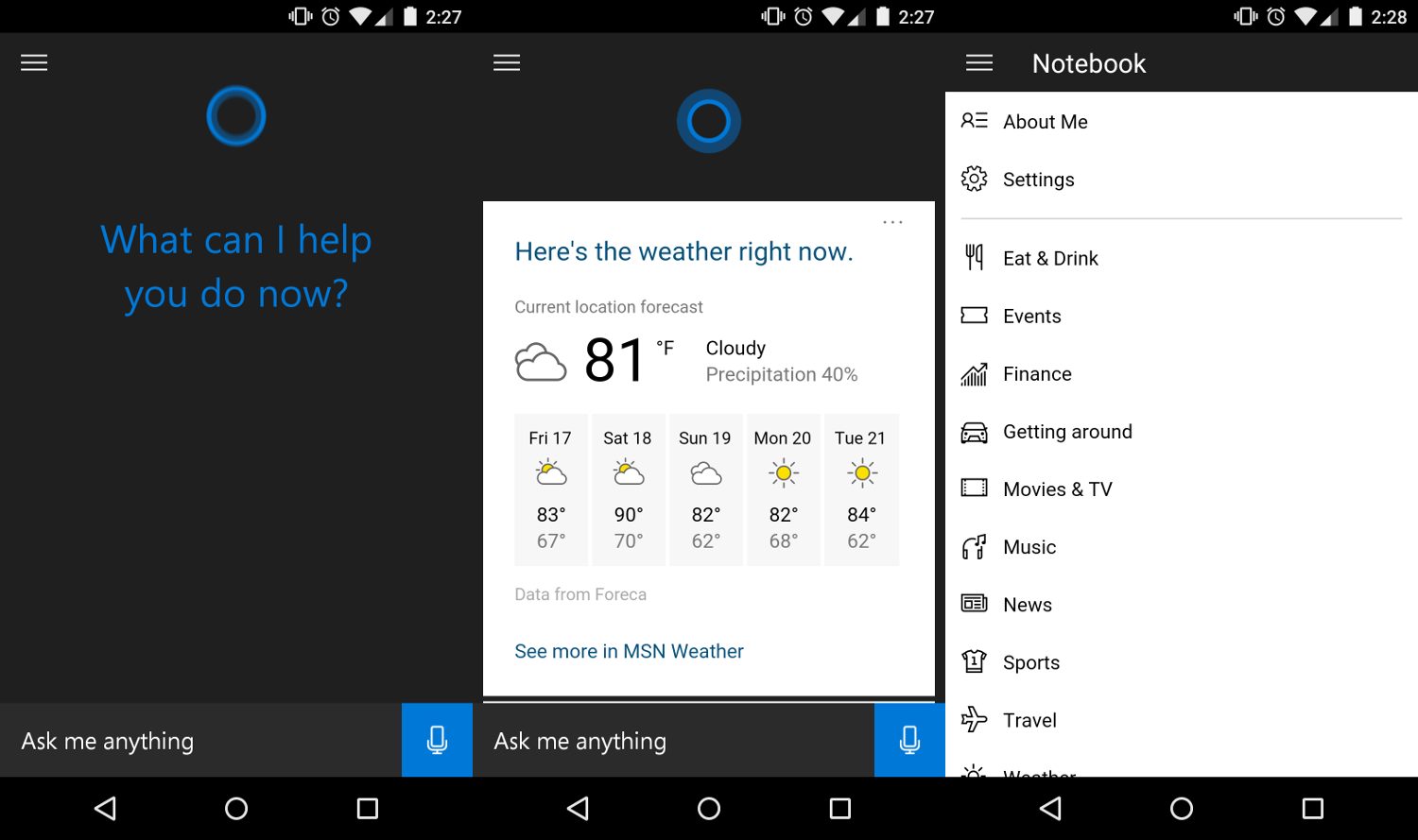 The users can easily customize their experience for helping Cortana in offering better information in a proactive manner. For doing this, they just need to tap on the 3-line option that is present on the top-left corner of the Home page. From here, they can select the "Notebook" option. Here, they will be offered a myriad of options for customizing the experience. One can begin by changing the name to a certain nickname. It can be anything that the users want. It comes under the section About Me. One can also prepare a list of the favorite places in this section.
Once you move downwards in the list, you will come across a long listing of cards for opting in & out of the same. You can simply go through the entire listing and then customize the overall experience to a greater extent. It might take time, however, it will help Cortana for Android in offering exclusive services.
Reminders
Microsoft decided to dedicate an entire section of Cortana for Android to the Reminders option. This might be highly helpful. However, there was no specialized need of giving a secondary menu as Reminders entirely.
Settings
Cortana for Android is very simple. A digital voice assistant should be able to take away your stress and do many chores with a single tap. This is something that can be clearly seen with the Settings option of Microsoft's Cortana.
On the top part of the Settings page, you will see an option that offers the ability to select whether you wish other Cortana-supported devices to get the missed call notification whenever you miss a call on your phone or not. This feature can be handy in case you forget to take your Android phone along with you or if your phone is silent or switched off.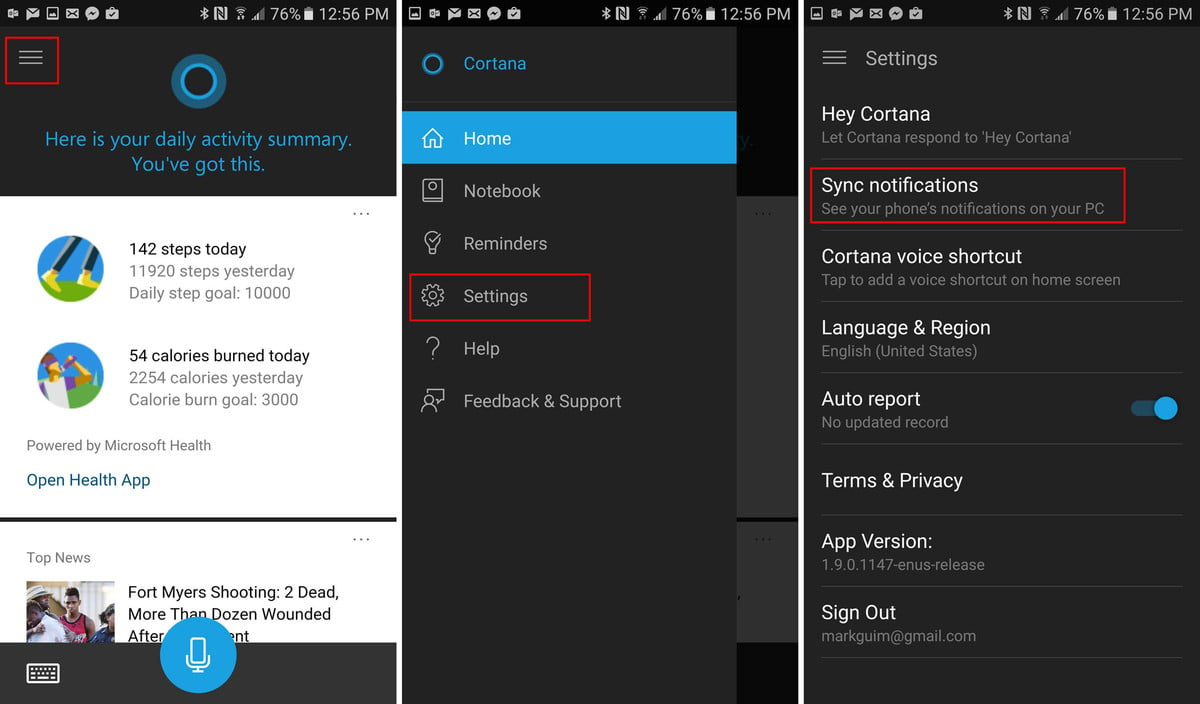 There is also the option of putting the Cortana voice shortcut on one's home screen of the Android device. This appears just like any other app and functions seamlessly. You simply need to tap on it and a small window will come over the UI and Cortana will begin listening.
The management of one's profile, bringing language and SafeSearch Settings are also easily possible from the Settings section of Cortana.
Putting Cortana Center and Front
Once you have installed Cortana for Android, the Google Now on your Android device will stop functioning as the default app for the search function. You can simply do the swipe up action from your Android home button and you will be then asked which particular service you wish to use –Cortana or Google Now. You can thus, make your desired selection and then select the option "Always" (optional).
Now that you know how to use Cortana for Android, you can select the best one for your convenience.
---