In case you didn't know about Xiomi (unless you've been living under a rock). Xiomi is a company
In case you didn't know about Xiomi (unless you've been living under a rock). Xiomi is a company from China that is set on a journey to show the world that they're not what people ought to believe. And we all know that there is always a competition for everything, whether it is with your siblings while having a fun dinner, or its the cheapest smartphone with the best hardware.
With the launch of Moto G, every other cell phone manufacturing company was just stunned by how cheap it was. Xiomi wasn't one of those stunned companies. They took on the challenge, and manufactured a cell phone that offered much better specs than Moto G, at least on paper.
The first comparison, we will do, is the cost, because it is one of the most influential factors that lead us to purchase a smartphone.
Moto G costs around $175, while the Xiomi Mi3 costs $199. There's just a difference of $24.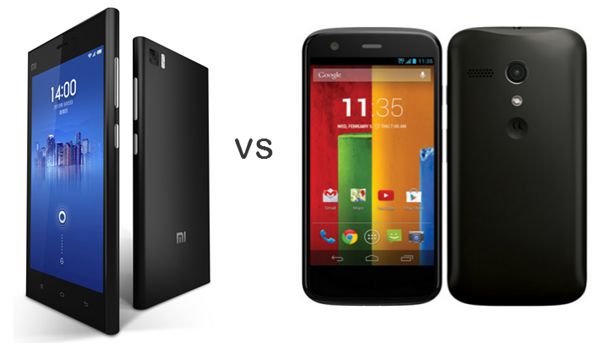 Let's get down to the specifications of these smart phones.
Mi3 has a 5.0 inch display with 1920X1080 px. While on the other hand, the Moto G has a 720X1280 px display that is 4.5 inches. Also, don't forget that Mi3 has a true IPS display that has 441ppi.
The heart of Mi3 is a 2.3 GHz Qualcomm Snapdragon 800 quad-core processor, and an Adreno 330 GPU to back those heavy games. The Moto G has a 1.2 GHz Qualcomm Snapdragon 400 quad-core processor, with an Adreno 305 GPU. If you don't know much about these smartphone GPU's, the Moto G offers a much lesser pleasurable experience of those games that requires a better GPU.
See Also-Motorola has announced the roll out of android 4.4.3 for its devices
I wished both of these devices had 2 gigs of RAM, but I guess I'll need to wait a tad more to get those wishes fulfilled. The Mi3 has 2 gigs of RAM, while the Moto G has 1 gig of RAM. Considering the storage, both these devices have no external storage provisions, and come in 16GB internal storage space, which should be more than enough considering that you won't be shooting professional videos on these smart phones.
Coming to battery life, Moto G has stunned me and left me speechless. I was able to use Moto G for 1 1/2 day on a single charge, while continuously using the internet, watching some YouTube videos and listening to songs. I'm yet to test the battery life of Mi3, but lets just consider that Moto G is the winner here.
Mi3 is a sure winner when it comes to the camera. The Mi3 has a 13MP camera with a 28mm lens, and is obviously capable of recording 1080p videos. Whereas the Moto G is being left behind with a 5MP camera that is capable of recording 720p videos.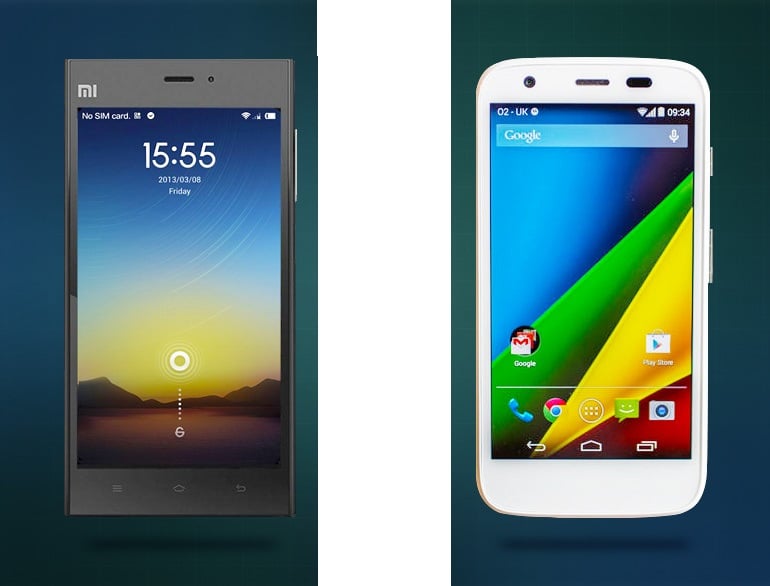 The OS is the biggest deciding factor here. Considering that the Moto G will be getting much faster updates compared to Mi3. The Moto G runs on Android KitKat out of the box, which is pure Android with just a couple of things added by Motorola. While the Mi3 runs on Android 4.4.2 with its own user interface, called MiUi5 which is completely different from what we usually see on most of the Android devices.
To conclude, and tie this with a bow, I will say that Motorola is still a better choice considering the fact that you will be able to get better customer services in case you run into any issues with the device. I guess this is the part where Xiomi would be getting less sales, because they're not providing that level of customer support/services.
My personal choice would be Moto G, because I always loved pure Android and I think that those UI's are just useless, and make the devices lag after some time.
Related articles across the web
---